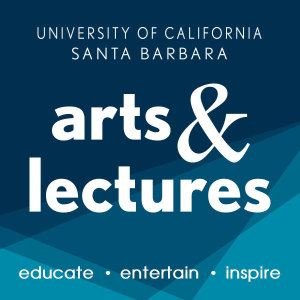 Founded in 1959, UCSB Arts & Lectures is the largest and most influential arts and lectures organization between Los Angeles and San Francisco. This nationally recognized, award-winning program brings exceptional cultural and artistic experiences to Santa Barbara with lively and varied programming featuring world-class performing artists and big thinkers.
A&L annually presents more than a hundred events, ranging from concerts, dance and theater performances to talks by groundbreaking authors, comedy shows and film series at UC Santa Barbara and area venues. Past A&L luminaries have included cellist Yo-Yo Ma, author/historian Doris Kearns Goodwin, graphic novelist Neil Gaiman, filmmaker Ken Burns, Alvin Ailey American Dance Theater, Jazz at Lincoln Center Orchestra, poet Mary Oliver and many more.
With a mission to "educate, entertain and inspire," Arts & Lectures also offers an exciting array of educational outreach programs for local students and the greater community. A&L hosts master classes, open rehearsals, lecture-demonstrations and classroom discussions with visiting artists and speakers at UCSB, as well as local elementary and high schools. From kindergarten through college, students have the opportunity to learn and be inspired by artists and intellectuals at the top of their fields.
As part of its outreach efforts, A&L participates in ¡Viva el Arte de Santa Barbara!, a unique collaboration between Arts & Lectures, the Marjorie Luke Theatre, Isla Vista Youth Projects, the Guadalupe Cultural Arts & Education Center. ¡Viva el Arte de Santa Barbara! presents the music, dance, theater and folklore of Latin America in free events for youths and families throughout Santa Barbara County, bringing exciting cultural experiences to neighborhood venues.
Visit A&L's website and social media pages above to learn about who's appearing this season!