No trip to Santa Barbara would be complete without a healthy dose of shopping. And shopping here comes with its own distinct flair. In Santa Barbara, a day spent shopping could just as easily be billed "exercise," thanks to plenty of walking and fresh air. Then again, you could call it "sightseeing," as the beautiful adobes of State Street and eclectic artistry of the Funk Zone are set against a background of the mountains, the ocean, or a cluster of red-tiled roofs, as though waiting for their close-up. Or you might call what you're up to "exploring," as you wander through Paseo Nuevo, one of Santa Barbara's open-air malls.
Loaded with shops and showrooms, restaurants, bars, and coffee shops, State Street is definitely the main artery in town, and using it as a yellow-brick-road of sorts is a sound strategy.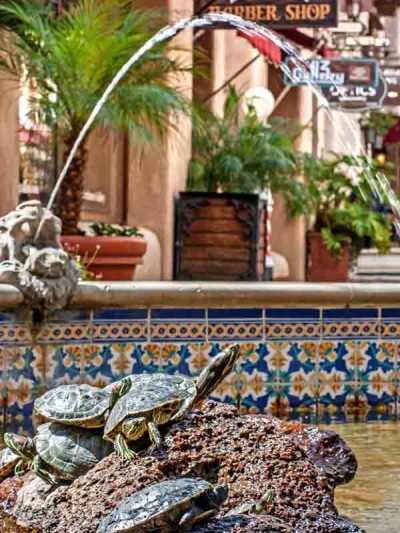 On State Street itself, you'll find plenty of surf shops, as well as the best of the stores and brands you already know and love. Pay a visit to Sevilla Square, where you'll find plenty of boutiques and places to grab a quick bite. Additionally, you'll find the entrance to Paseo Nuevo Shopping Center. Continue to follow State Street and you'll also find small, locally owned retail shops inside La Arcada. This hidden gem is an architectural delight, home to the iconic turtle fountain.
Shops are scattered throughout all of Santa Barbara, including Arlington Plaza and De La Guerra Plaza. And everywhere you look, there are consignment shops and souvenir shops, gift shops and galleries just waiting to be discovered.
As you near the water, head east off of State Street between Montecito and Mason Streets to find yourself in the Funk Zone. This up-and-coming area is bursting with energy, and, while it is definitely known for its abundance of wine tasting rooms, it has loads of eclectic shops to entertain as well.
If you hit the water and just want to keep going, Stearns Wharf and the Santa Barbara Harbor are also home to several cute souvenir shops, perfect for picking up a memento for yourself, or an I-Was-Thinking-of-You gift for someone else.
Away from downtown Santa Barbara, there are additional shopping meccas of note: Uptown Santa Barbara, another easily navigable open-air option awaits at La Cumbre Plaza. And a few miles south in Montecito, two areas, Coast Village Road and the Upper Village, are home to a sweet cache of one-off boutiques, as well as fun shops with only a few locations in the country.