locally made gift guide
Supporting local businesses has never been more important, and when it comes to gift-giving, it's a win-win to embrace the "shop small" ethos and make thoughtful purchases that will help keep area entrepreneurs afloat. 
Whether you shop in person or online, when you gift your loved ones unique one-of-a-kind finds with Santa Barbara roots, you are investing in the heart and soul of the community. This gift buying guide will steer you to shops and products that can only be found on The American Riviera®, along with premier purveyors of Santa Barbara's signature style and some delectable Central Coast goodies to boot. 
Fair warning: you'll definitely be tempted to pick up a few things for yourself along the way, to which we say, treat yourself!
Santa Barbara Boutiques
In the market for clothing and accessories that capture the effortless elegance of Santa Barbara's laid-back style for a lady in your life? Get started at Diani Boutique and Diani Shoes located in Arlington Plaza. The brick-and-mortar stores have a relaxed, beach-y vibe that invite browsing the racks stocked with the coolest of European and American designers. If you've got a gardener to gift, beeline to Diani Living to check out their line-up of very reasonably priced Tula Hats, along with many other attractive home and garden accessories.
In La Arcada, you'll find your next favorite pair of jeans at Ace Rivington. Founder Beau Lawrence guarantees perfection with every pair of custom-tailored denim. Add on the SB Tour Monster Tee to your purchase, which supports 42 amazing bars and restaurants throughout the community. $10 from the sale of each t-shirt goes to tip Beau & his wife Yasmin's favorite "Date Night" spots listed on the back of the tee.
The Presidio District's Jake & Jones boutique is a treasure trove of interesting clothes and accessories by independent designers for women and children, plus highly giftable colorful home accents and simple luxuries like bath and body products. At a loss for what to buy that someone special? Their Gift Bundles and Care Packages range in price from $40 to $1395 and take the guesswork out of the equation. 
Santa Barbara's very own women's ready-to-wear clothing designer, Catherine Gee, captures the city's no-fuss attitude in her expanding collection of silk dresses, tailored tops, and sweaters. The rising star's pieces have caught the attention of Hollywood stars and trusted global fashion authorities such as Vogue and WWD—and her silk face masks make for the perfect stylish stocking stuffer. Catch Gee at work and shop the collection at her space in The Mill.
Down in The Funk Zone, The Shopkeepers is stocked with fashionable, ethically minded goods made for men, women, and home. Here you'll find apparel from brands with California roots like Taylor Stitch and Etica, as well as the P.F. Candle line of home fragrance inspired by the Golden State. Loveworn is a partnership reborn between designer Jill Johnson and artist Wallace Piatt who have a long history together as purveyors of vintage threads. Hit the punk rock outpost to shop for vintage denim, customized jackets, and screen-printed tees. And if you want to give the gift of original art without breaking the bank, check out the selection of posters featuring Piatt's colorful paintings. Shine Up is another Funk Zone favorite for masculine goods. Think utilitarian denim, printed button-up shirts, rugged jewelry, and other leather accessories.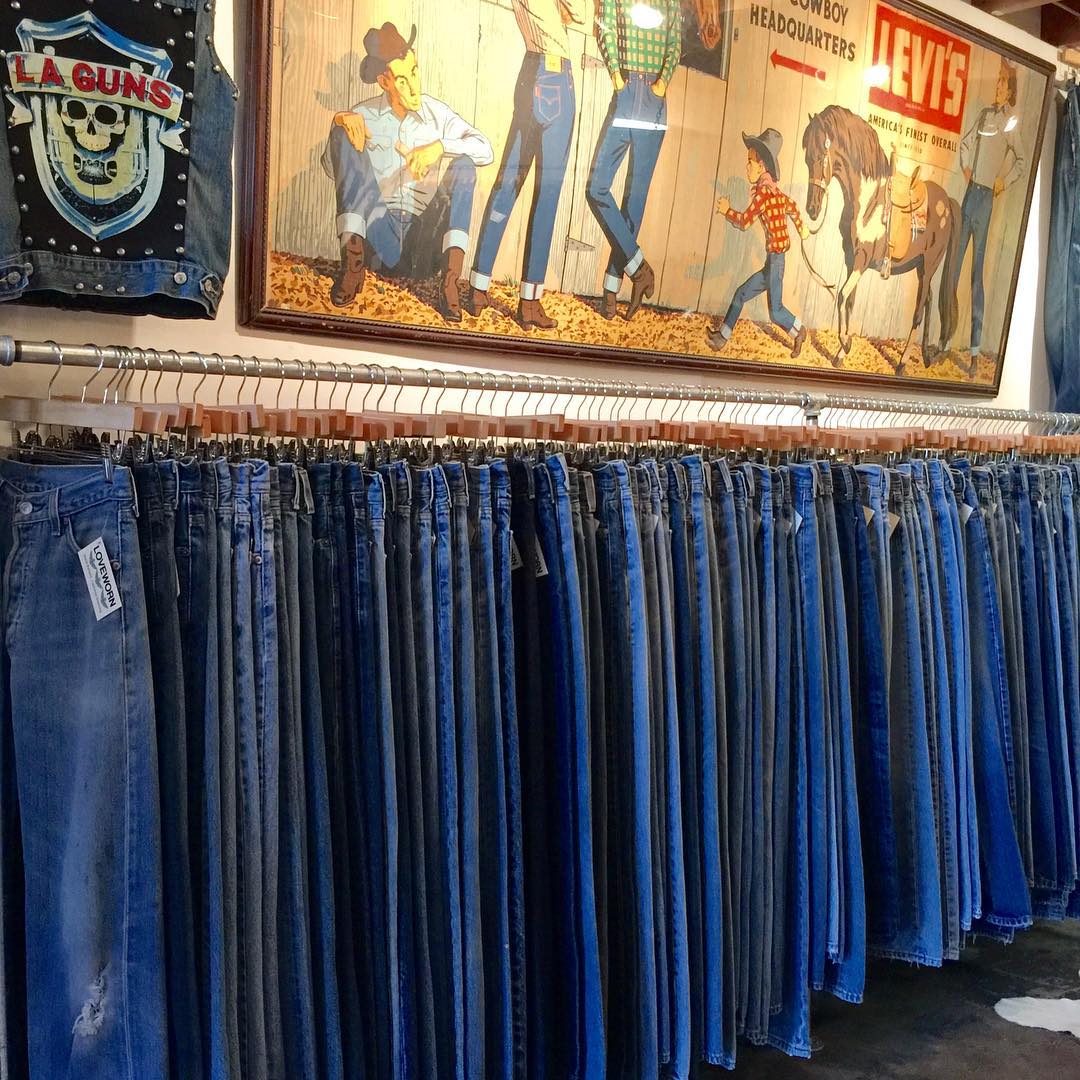 Montecito-based Wendy Foster is a retail legend synonymous with Santa Barbara style—she's been in business with her husband Pierre Lafond for more than 40 years and together their local empire encompasses six boutiques, a café, and two wineries. Her four signature Wendy Foster women's clothing boutiques are located in Montecito's Upper Village, downtown, and Los Olivos (2928 San Marcos Avenue). The more youthful leaning Angel sits in the heart of Montecito's main street. And Upstairs at Pierre Lafond carries home décor, eclectic gifts, and art along with a well-edited selection of children's and men's clothing.
Another successful retail venture created by a dynamic husband and wife team, K. Frank brings an astute, sophisticated eye for modern style to their designer clothing selections for men and women. The brick-and-mortar boutique in Montecito is open for in-person shopping, but if you prefer to keep your distance, book a private shopping appointment or take advantage of complimentary shipping and delivery.
Tokens of Love
Find all sorts of tokens of love made locally at the long-running Santa Barbara Arts & Crafts Show along the waterfront. Every Sunday, nearly 200 Santa Barbara artisans showcase their creations on Cabrillo Boulevard between Stearns Wharf and Calle Ceasar Chavez, and pandemic protocols have been implemented to ensure safe shopping.
Continue to shop and support area artisans at Blissful Boutiques' Outdoor Christmas Market, every Tuesday and Thursday through Sunday, now through December 24, 2020. Located in Paseo Nuevo, explore, browse, and purchase one-of-a-kind treasures made by creative locals. Each week offers the opportunity to discover your next favorite piece of jewelry, apparel, home good, or artwork. 
The Zone Studios creative space in the Funk Zone is another reliable source for hand-crafted gifts. Meadow Rose (wood print photo art) is currently hosting a Plum Goods pop-up and serving as the pick-up spot for the seasonal arts and crafts Yes Store. While you're there, stop by neighboring Jules by the Sea (jewelry, crystals, and more) and Jess Conti Leather Goods (handbags and jewelry).
Also in the accessories department, family-owned and operated Make Smith Leather Co. evolved from the Soria family's saddlery business established in 1950. Today, third-generation leather artisan Steven Soria makes belts, wallets, bags, key chains, homewares, and much more from their Make Smith workshop and retail space in the Presidio District downtown. A perk of buying a custom piece? You can have it monogrammed for your gift recipient.
Montecito Country Mart is currently home to a few compelling pop-ups abounding with gift-giving potential. Clare V. is an LA-based purveyor of chic purses and capsule apparel collections. Sheryl Lowe Jewelry features designs by longtime local creative, Sheryl Lowe, wife of actor Rob. Curated by the editors of C Magazine, Studio C exclusively features California brands. A more permanent fixture at Montecito Country Mart, Mate Gallery carries vintage treasures and nautical-spirited art with a New England twist.
Ready to go big? Nothing says "I love you" like a piece of handcrafted, made-to-order Keefrider Custom Furniture that will stay in the family for generations. Jay and Sirie Keefrider take pride in their ability to create a range of styles with equally diverse natural materials, from Mid-Century Modern and Shoji to farmhouse and Shaker.
Traveling abroad might be off the table right now, but the Italian Pottery Outlet can help you deliver a virtual taste of "la dolce vita." The family-owned business specializes in ceramics for home and garden sourced from the Italian countryside. Riviera Towel Company is a homegrown local gem of a boutique dedicated to impossibly soft, premium Turkish towels suitable for everyday use at home as well as sun-soaked vacations and days spent alfresco. Plus, every purchase benefits an environmental non-profit that protects our oceans.
Pair a deluxe towel with a book for a social distanced beach day "care package." Browse for bibliophiles at independent booksellers like Chaucer's Books, Tecolote Book Shop, Paradise Found, and The Book Den.
Beauty & Beyond
Everyone can benefit from more self-care these days. Pamper your people with gift sets from The Grapeseed Company, an organic skincare line created from the byproduct of wine, which uses the natural "waste" our local wine country provides. Their product range includes items for all genders as well as children and even feline friends. Pura Luna Apothecary is a magical supplier of herbal medicinals, products, and gifts made in-house and by women-owned/minority-owned ventures. Think organic skin tonics and face oils, soothing bath salts, healing tinctures, and crystals.
The options are endless when it comes to consumable culinary goods made in Santa Barbara County. Home cooks will go crazy for the olive oil and vinegar gift sets made by Global Gardens in Los Olivos, where you can also buy a club membership for a gift that keeps on giving all year long. Rancho Olivos in Santa Ynez is another excellent resource for premium extra virgin olive oil, as well as lavender products from neighboring farms. The Hostess Gift Pack set with olive oil and balsamic vinegar is a winning choice. 
Santa Barbara County wine is always a crowd-pleaser, too, and with more than 200 wineries in the region, you'll be spoilt for choice when it comes to picking the perfect vintage. Consider purchasing magnums or sparkling wines (like Riverbench's glitter-dipped bottles of bubbles) to make a big impression, or sign up for a wine club membership to initiate special deliveries throughout the year.
How does blending your own barrel of wine sound? For the ultimate wine splurge, treat the wine lover in your life to an unforgettable experience with Artiste Winery. Alongside legendary winemaker Bion Rice, you'll blend a barrel, design a signature label, and leave with 288 bottles of your very own wine. It doesn't get more personalized than this! 
Beer connoisseurs can collect bottles or growlers of favorite brews from Santa Barbara's dozens of craft breweries. Stock your bar—or that of the cocktail aficionado in your life—with Cutler's Artisan Spirits' small batch bourbon, gin, vodka, whiskey, or apple pie liqueur distilled in downtown Santa Barbara. Cutler's also carries Santa Barbara-based Pacific Pickle Works products (as do several other local markets) including savory cocktail mixers like pickle brine and michelada shrub and pickled veggies to garnish. 
On the sweet side, Jessica Foster Confections' handmade chocolate truffles come in unique flavors perfectly packaged for gifting. Several markets (Lazy Acres and Whole Foods included), wineries, gift shops, and hotels carry her divine creations or you can make a custom order. 
Twenty-Four Blackbirds, a "bean-to-bar" SB chocolate specialist, makes truffles, single-origin chocolate bars, and drinking chocolate kits. Santa Barbara Gift Baskets is a one-stop-shop for many of these locally made products and then some. Stop by their Goleta store to hand-pick items like Santa Barbara Olives, Santa Barbara Popcorn Company, Santa Barbara Pistachios, A Taste of Santa Barbara Salts & Spices, Jilli Vanilli, and local libations for a beautifully assembled gift basket. They also stock cookbooks by local authors and health and wellness products like Santa Barbara Soap Co. Of course, they ship, and you can always place orders from their online store.
Heritage Brands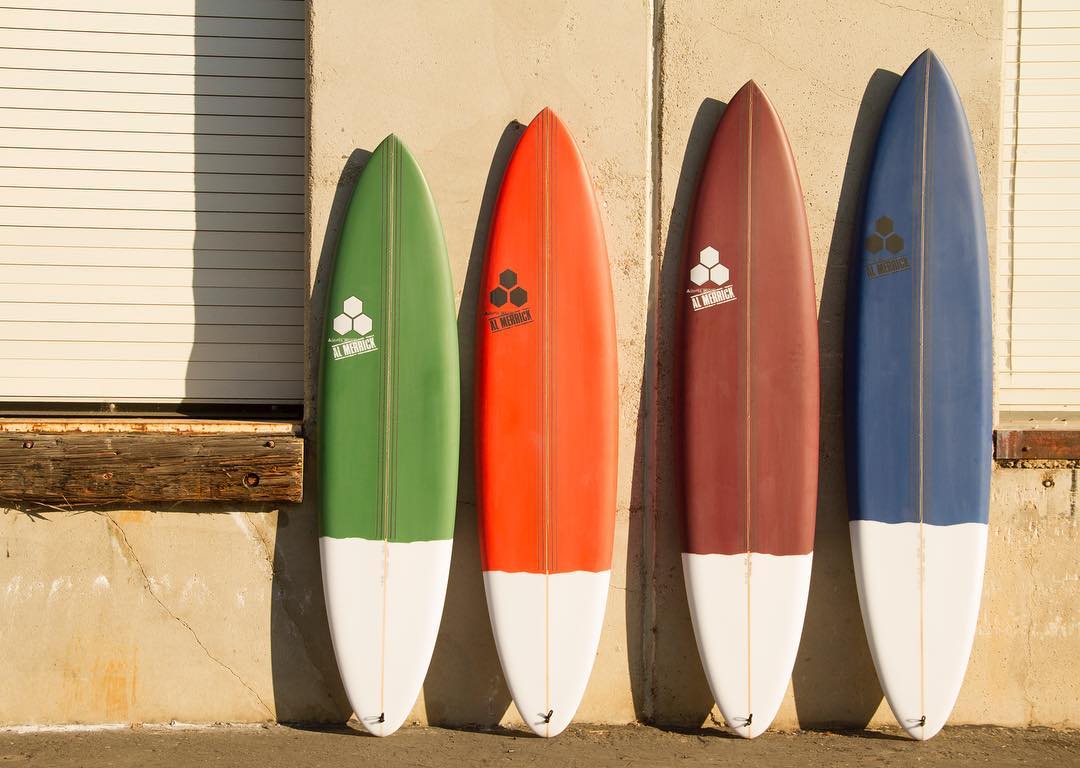 Santa Barbara has long attracted innovators and cultivated creators, and as a result, some notable global brands were launched on The American Riviera®. One of the most revered and successful surfboard shapers in the world, Al Merrick's Channel Islands Surfboards is one such brand that started here in 1969. The flagship Channel Islands Surfboards retail store is located in The Funk Zone and carries exclusive Santa Barbara branded apparel—from baby onesies and men's and women's t-shirts to hats and sweatshirts—along with surfboards and accessories. 
SeaVees is another longtime Santa Barbara staple. The maker of a classic canvas sneaker that debuted in 1964, SeaVees re-launched 40 years later with contemporary interpretations of the original style for men and women. Visit the Santa Barbara retail store in The Funk Zone and get to know the people behind the brand while stocking up on fashionable kicks.
A major player in the footwear category also headquartered locally, Deckers Brands made its mark in 1973 with the Deckers rainbow flip flop. Today, the company designs and sells fashion and performance lifestyle brands with an emphasis on outdoor and active living: Ugg Australia, Teva, Sanuk and Hoka One One. You can visit the Deckers Brand Showcase in Goleta to shop all of their brands under one roof and explore their innovation lab. If you don't want to get charged for an overweight suitcase on your return home, they'll even ship anything you purchase onsite free of charge.