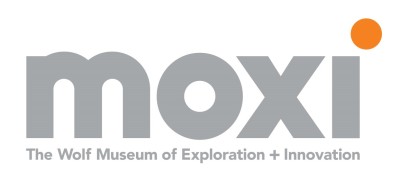 Ignite your mind at MOXI, The Wolf Museum of Exploration + Innovation, Santa Barbara's one-of-a-kind destination for hands-on scientific and creative experiences. Located in the flourishing Funk Zone neighborhood, MOXI invites kids, families and curious minds of all ages to explore more than 17,000 square feet of immersive activities. From the Giant Guitar where you can study your favorite riffs to the Wind Column Workshop where you can conduct test flights, MOXI's interactive approach to science, technology and the arts inspires experimentation and discovery.
Unlike museums with a look-but-don't-touch philosophy, every exhibit at MOXI encourages you to play, engage and participate. Step into the Foley Studios to record sound effects to a movie clip, launch an air rocket in the courtyard or build a racecar and send it down the test track. Flex your creative muscles in the Innovation Workshop, a makerspace where you'll find supplies ranging from low-tech popsicle sticks and glue to a high-tech 3D printer to design an invention of your own. Your trip to MOXI isn't complete without a visit to the rooftop Sky Garden, where you can compose a wind- and sun-powered symphony, walk across the glass Sky Deck and enjoy a panoramic view of Santa Barbara from the mountains to the ocean.
MOXI Hours and Admission
MOXI is now open daily from 10 a.m. to 5 p.m., with the exception of Thanksgiving Day, Christmas Eve, and Christmas Day. MOXI may also close for select special events. Check the website for current hours.
Admission is $14 for children ages 3–12 and $18 for adults (13+). Admission is free for children age two and under.
Tips for Your Visit
Santa Barbara's train station is conveniently located right across the railroad tracks from MOXI. If you're arriving from north or south of Santa Barbara, Amtrak is a fun and easy car-free way to travel, particularly for a multi-day trip.
If you arrive by car, there are several City of Santa Barbara parking lots within walking distance of MOXI, including City Lot #13, which is adjacent to the train station. Pedestrian pathways along both sides of the building provide access to the museum's main entrance. MOXI has two accessible parking spots located at the rear of the building.
MOXI features special activities and rotating exhibits every day throughout the museum, including various making projects in the Innovation Workshop. Check the activity calendar to find out what's happening when you plan to visit.
Consider making a day of your visit to MOXI, as you'll be in close proximity to many fun local shopping and dining options in the Funk Zone and along the Santa Barbara Waterfront.