Downtown Santa Barbara is a mecca for arts and culture. The classic Spanish heritage and stunning natural landscape of The American Riviera® has inspired all types of artists. Pair your art walk with fresh, local flavors and enjoy the finer things Santa Barbara has to offer.
Santa Barbara's Museum Mile is an easy way to visit the city's 12 downtown museums while enjoying fresh cuisine and local spirits along the way. From State Street to the waterfront, Santa Barbara offers vibrant, enriching experiences for all ages.
Along State Street, local favorite The Karpeles Manuscript Library Museum holds some of the world's largest collections of original documents, including the work of Beethoven and Darwin. The Santa Barbara Museum of Art boasts works ranging from classical antiquities to modern installations. Pair art with the nearby luxury winery, Grassini Family Vineyards, and nibble on some carefully chosen chocolate with your Cabernet. Or, sample the fine, California cuisine at the local's favorite Opal Restaurant & Bar.
Immerse yourself in Santa Barbara's rich, Spanish history at the preserved Casa de la Guerra and El Presidio De Santa Barbara State Historic Park. Take a stroll in the stunning courtyards at the nearby Santa Barbara Historical Museum, which pay homage to the romance of early Spanish California. After, dip into Handlebar Coffee Roasters for an afternoon java jolt. If you're craving something sweet, try a scoop from Santa Barbara's McConnell's Fine Ice Creams around the block.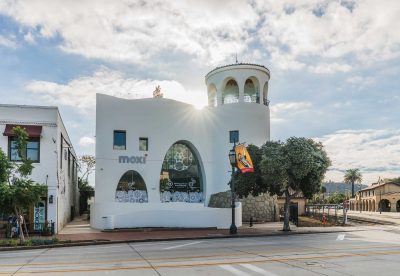 Kids and adults will love stopping into the quirky Susan Quinlan Doll & Teddy Bear Museum & Library and Santa Barbara Carriage Museum as you make your way down to the waterfront. Once there, find Santa Barbara's newest museum, MOXI—a creative playground for all ages. This world-class museum combines creativity and the sciences with hands-on learning. If you're in need of nourishment, the "new classic" farm-to-fork restaurant, The Lark, is only a couple of blocks away.  From there, dive into wonders of the sea with Santa Barbara's Maritime Museum and Santa Barbara's Museum of Natural History Sea Center. Cap off your day with shops, sights and savory dishes at Santa Barbara's classic attraction, Stearns Wharf, and cheers to a day well spent.