When it comes to combining the mountains and the sea, it's tough to think of a better place in the country for hiking than Santa Barbara. Nicknamed The American Riviera®, Santa Barbara exudes a Mediterranean feel with its coastline, vegetation and architecture. Tucked between the Pacific and the Santa Ynez Mountains, which run east to west through the Los Padres National Forest, Santa Barbara creates a postcard-perfect backdrop for your next hiking adventure.
But more importantly, hiking trails in Santa Barbara and surrounding areas feature some amazing vistas for hikers to explore. You'll find everything from easy, flat paths through manicured gardens to difficult climbs that reach towering heights over the Pacific. Scenic views are everywhere, and at the end of the day, you can enjoy some of the best dining and finest wines in the country.
With so many hikes to choose from, we decided to head straight to the experts: we asked, you answered! We polled @visitsantabarbara Instagram followers, and here are 11 resoundingly popular Santa Barbara hiking trails that highlight the best of what Santa Barbara has to offer, listed by voter ranking.
SEVEN FALLS
If you're looking for a moderate hike that ends with a refreshing splash, Seven Falls is right up your alley. Pack those hiking boots and head to Tunnel Road, a paved road that will lead you straight to the trailhead, of which many well-known hikes have in common. Turn left once the asphalt ends and slosh your way up the path, but don't forget to pack your swimsuit! The pools make for a great photo-op, and the 2.5-mile roundtrip hike will leave you with a sense of accomplishment (and just a bit of sweat).
LA CUMBRE PEAK
This intermediate hike continues on from the end of Tunnel Trail and is a 10-miler out-and-back type. The stunning ridge, Santa Barbara's highest peak at 3,995 feet in elevation, offers panoramic views of the coast and is a must-do for every avid hiker. For this hike, local guides advise that hikers come prepared with water, sunscreen, protective wear, sturdy boots and snacks. The sun-filled days in Santa Barbara can get pretty toasty, especially as you travel farther from the ocean and into front country.
INSPIRATION POINT
You can't go wrong at any place named Inspiration Point. There are a couple of ways to reach the panoramic views about 1,800 feet above Santa Barbara. Taking San Roque Road to the Jesusita Trail is just under an 8-mile round trip, with about 1,400 feet of elevation gain. A shorter alternative is to take Tunnel Road to Jesusita, which is about a 3.75-mile round trip, but you don't have the ocean views on the way up. Whichever way you decide to get there, you'll enjoy hiking through the oaks and sycamores at lower elevations, and the views at the top are, well, inspirational.
The hike to Inspiration Point will take about 1.5 hours and has an elevation gain of 800 feet.
CHANNEL ISLANDS
While the five islands that make up the Channel Islands National Park are just off the coast of Santa Barbara, they offer a stunning contrast to the mainland. Isolated for thousands of years, the five islands in the park have developed their own unique plant and animal life, as well as a rugged beauty that shouldn't be missed. Each island has a unique look and feel to be explored. On Santa Barbara Island, you'll find five miles of hiking trails that top the low mountain tops to offer incredible coastal views.
The Channel Islands National Park is packed with hiking (and camping) opportunities on these unique outposts in the Pacific.
LIZARD'S MOUTH
If you are looking for more of a picnic setting with space to relax, Lizard's Mouth is the perfect hike to take on. The easy quarter-mile walk off West Camino Cielo Road opens up to jaw-droppingly scenic views and plenty of room to post up with blankets and a charcuterie board. The iconic rock formation that looks like a lizard opening its mouth wide is closer to the backside of the boulders and faces away from the ocean. Don't be surprised if there are a few engagement shoots happening while you explore, the view is just that great!
RATTLESNAKE TRAIL
A gentle 3.5-mile roundtrip hike, Rattlesnake Trail is perfect for the whole family, Fido included. The trailhead is adjacent to Skofield park and marked by a very large sign. Follow the shaded trail through its dips and take in all the gorgeous scenery the canyon has to offer. If you're looking to up the ante, take the Connector from the meadow up to Tunnel Trail (see details on how to access below) and prepare yourself for a workout!
GAVIOTA PEAK
The 2,458-foot Gaviota Peak is an excellent challenge for those who want a more serious hike. The 6.5-mile loop trail starts just west of Santa Barbara in Goleta, Calif., in the Gaviota State Park, about a half hour's drive from downtown Santa Barbara. The peak is just two miles inland of the ocean, which means you're going to have some steep climbing (there is a 2,150-foot elevation gain on the way up), and you're going to get some excellent views of the Pacific once you get there. From the parking lot just off the 101 Freeway, the trail splits after a short distance, and you can choose to take the mostly single-track Trespass Trail to the top. The trail does loop however, so you can take the fire road back down for another view.
Be prepared to climb as you hike the trail to the top of Gaviota Peak.
Editor's note: At this time, Gaviota Peak is currently closed due to storm damage, flooding and debris cleanup.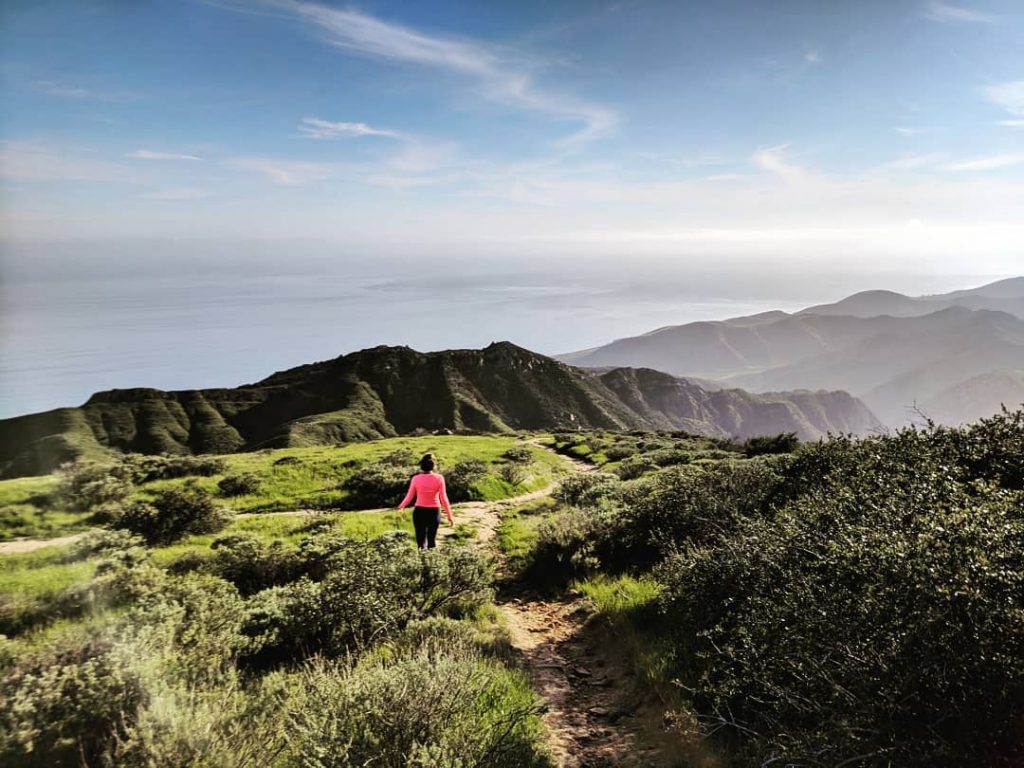 CATHEDRAL PEAK
Towering above the coast, you and your hiking crew will be able to see for dozens of miles at Cathedral Peak. The statuesque boulders are intimidating, and rightfully so! This trail is not for the faint-hearted, and rated for Class 3 rock climbing, so leave your furry friend at home this round. However, ultra-experienced hikers know the strenuous four-mile roundtrip and 3,000-foot elevation gain is worth the wonderous views and bragging rights for making it far enough to autograph the coveted registration book nestled in a rock near the peak. Start on Tunnel Road, take Jesusita Trail to Mission Creek, then turn right up Mission Creek and look left for a steep trail that continues onward towards your destination.
Stay in Touch

Request Our Visitors Magazine
Request your FREE copy to help plan your visit and get the most of it while you're here!
Order the Magazine
NOJOQUI FALLS
This hike at the Nojoqui Falls Park may be short (.65 miles out and back), but the payoff is getting to see a spectacular, 80-foot waterfall. The park is located about 40 miles from downtown Santa Barbara, just beyond the Gaviota Tunnel on the 101 Freeway. The hike itself winds its way up 175 feet through a shaded canyon covered with a canopy of oaks and laurels. While at times steep, the wide trail is accessible to anyone, with a scenic wooden bridge and stone steps. The falls are at the strongest in the spring, and after a heavy rain it becomes quite powerful. But even when the falls are a smaller trickle, it's still a sight to behold. It's just a short trip to see the 80-foot-tall Nojoqui Falls.

SANTA BARBARA BOTANIC GARDENS
Where else can you find more than 1,000 native California plant species all within walking distance? The Santa Barbara Botanic Garden is a great place to explore on your own or with a docent to help you discover everything to see in this 78-acre preserve. You'll find more than five miles of paths to explore everything from cool redwoods groves to meadows full of wildflowers in the spring. The Porter Trail offers the best scenic views of the area. You'll also find an authentic Japanese Teahouse and Garden, as well as the historic Mission Dam, which was built in 1807 to provide water for the Santa Barbara Mission. The garden is only about a three-mile trip from downtown Santa Barbara.
Designed completely with California native plants, explore 5 miles of easy trails in this 78-acre wild crafted garden.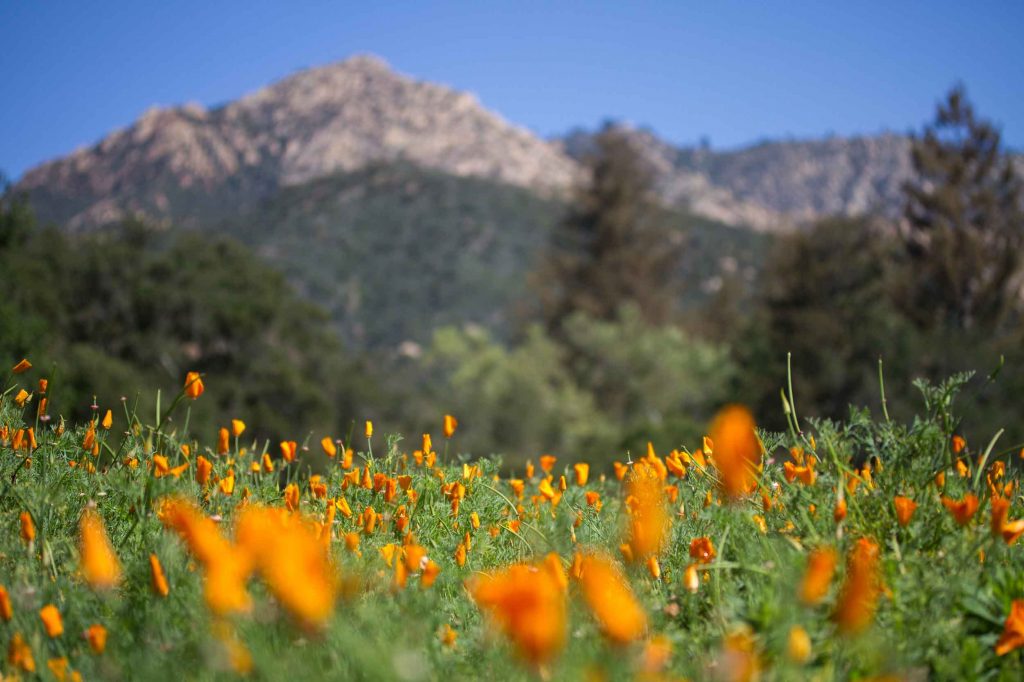 TUNNEL TRAIL
One of the most popular Santa Barbara hikes, Tunnel Trail hits its quota for amazing city views, twists, turns, rock formations, and breathtaking waterfalls during the rainy season. Beginning on the same paved road (Tunnel Road) as Inspiration Point, Cathedral Peak and Seven Falls, Tunnel Trail winds around the mountain and lands at East Camino Cielo Road, with views of the rugged backside of the Santa Ynez range. It's up to you how long you want to make your hike, but on average the hike is about nine miles with a few extra miles tacked on if you continue on to La Cumbre Peak. Be sure to wear sturdy shoes and bring lots of water, and don't forget your camera to capture the insane heights.
DISCLAIMER: Hiking is an inherently dangerous activity. Please research all hikes before embarking, and adequately prepare yourself and your group with ample water, hiking shoes, food, medical supplies and anything else you may need to ensure a safe and enjoyable hike. Before going, please confirm the trail is open and safe for hiking. Please check the Los Padres National Forest, California State Parks, Santa Barbara County Parks and City of Santa Barbara Parks websites for the most current information.
**Kindly note that restroom and trash services may be limited or non-existent, so be sure to plan ahead and pack out any trash.