Santa Barbara is a one-of-a-kind vacation destination, especially with the kiddos in tow. From interactive museums to endless beach days, there are countless ways to keep everyone, at every age, entertained. For families looking for the adventure of a lifetime, we've compiled a 3-day itinerary filled with activities along Santa Barbara's waterfront.
But before we get started, you'll need to choose where to stay. Santa Barbara has a number of wallet-friendly hotel options, perfect for both big and small families. With four different lodging options from Santa Barbara Hotel Group, choose between hotels right on State Street, close to the train station or a short walk to the beach – the options are endless. One of our personal favorites, Brisas Del Mar, is only a five-minute walk to the waterfront. This Mediterranean-style staple of SB features a heated pool, scenic views, and continental breakfast, all under a classic, old-world ambiance. As an added bonus, Brisas Del Mar also offers a wine and cheese reception each afternoon, plus milk and cookies in the evening. We're not sure who will love it more – you, or the kids!
Day 1
Begin your day at the Santa Barbara Harbor with breakfast the California way, at On the Alley. Order a jumbo breakfast burrito filled with everything you need to kick-start your morning. (Tip: Try adding avocado and tater tots!) Little ones will love the French toast dips or the waffle "fingers," which they can dunk into a side of syrup.
After you've filled your belly with breakfast, take a quick walk around the corner, where you'll find the Santa Barbara Maritime Museum. Explore the Santa Barbara Channel's rich maritime history, dating back 10,000 years. Highlights include the Point Conception Lighthouse Fresnel Lens, which stood watch for about 160 years.
For a deeper exploration of marine life, booking a whale watching trip with Condor Express is an absolute must. With year-round excursions, you're pretty much guaranteed to see something thrilling on each and every journey. From humpbacks and gray whales to blue whales and dolphins, it's possible to see aquatic animals during all four seasons. Aboard Condor Express, choose to view the Pacific Ocean from scenic outdoor decks, or opt for indoor seating, enjoyable during any weather condition. Having over 30 years of experience touring visitors, the captain and crew are also your one-stop-shop for information on whale migration, marine life, and Channel Islands National Park!
When you return to shore, take in the Santa Barbara scenery as you walk along the waterfront towards State Street. You'll come across Chad's, a Santa Barbara staple since 1957 and a perfect place to stop in for lunch. Fill up on all-day breakfast or a classic burger – there's something for everyone to enjoy!
Day 2
On your second morning in Santa Barbara, take to the water with Santa Barbara Adventure Company for a full day of excitement. Families with beginner kayakers, book a coastal excursion along the Gaviota Coast, home to more than 1,500 species of plant and animal life. Starting at Refugio State Park, your guide will take you on a three-mile tour, alongside dolphins and sea lions. Mid-day, you'll get the chance to play on secluded beaches while your guide sets up lunch.
For more experienced kayakers, The Channel Islands are an easily accessible, yet secluded, hub for local flora and fauna. The most rewarding way to explore this National Park is a day of kayaking around the islands. Head over to Santa Barbara Adventure Company for a guided kayaking trip, where you can hop on board a charter boat straight from the Santa Barbara Harbor to explore one of the world's largest sea caves, Painted Cave, during the months of May through September. After an afternoon of exploring the island's amazing sea caves inside and out, enjoy a warm shower, sea snorkeling, and lunch provided by the friendly staff. Not only will you experience a wonderful day at sea, but trips include informational guides who can share their knowledge on natural history and marine ecology. You'll leave with new knowledge, great memories, and an experience your family will never forget.
Day 3
Life is all about balance. After your day of active adventure at sea, take it easy on your last day with a morning lounging by Brisas Del Mar's outdoor pool or sipping coffee on your sunshine-filled patio. Or, better yet, the beach is only two blocks away, making the beautiful Santa Barbara waterfront a five-minute walk from your front door. With year-round temperatures averaging 70 and sunny, be sure to soak up as much sun as possible (with sunscreen, of course!) before checking out.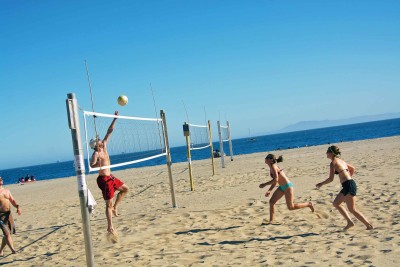 Once hunger strikes, head to Cheese Shop Santa Barbara to stock up on picnic provisions. From local jams to cheese and meat from all around the world, there are endless combinations for a delicious lunchtime snack. Pack your picnic and head to East Beach, where you can snack at picnic tables, jump on the playground equipment and put your feet in the water. If you're up for something more active, start up a volleyball game. East Beach is home to dozens of some of the West Coast's best sand volleyball courts! Play with the family, or drop into another group's game – there are always people ready to hop in at East Beach.
After your active afternoon, spend your final few hours in Santa Barbara walking along State Street, the iconic hub of the downtown area. From small boutiques to big-name brands, there are endless shops to check out along the way. For your last taste of Santa Barbara, be sure to stop by the legendary McConnell's Ice Cream shop, the perfect end-of-trip treat for the whole family.