Bob's Well Bread, Photo By Ali Beck
Where there's good wine, you'll find good food. The Santa Ynez Valley wine country abounds with restaurants worth the drive over the hill from Santa Barbara—whether you go for one epic meal or plan an epic day of touring and tasting bookended by breakfast and dinner, that stands true.
Where to eat in the Santa Ynez Valley
When planning this delicious day trip, the first order of business is to decide how you're getting there. Letting someone else do the driving is always a grand idea, especially if wine is involved. Let the experts lead and consider booking something formal with one of these Santa Barbara wine tour companies. But whether you're letting someone else take the wheel or making the drive DIY-style, know that it takes roughly 45-minutes from Santa Barbara proper to most destinations in the Santa Ynez Valley. There are two routes to get there, so it's best to plan your drive based on which side of the Valley you intend to start and finish. The San Marcos Pass (a.k.a. Highway 154) cuts through the mountains on a windy two-lane road that passes by Lake Cachuma. If you're going to Santa Ynez or Los Olivos first, the 154 is usually the most direct way to go. Highway 101 is the higher-speed coastal option that will get you to Buellton and Los Alamos most efficiently.
Now, where to eat and what to see? Here's a menu of ideas to whet your palate organized by town within the Santa Ynez Valley.
Restaurants in Los Alamos 
Los Alamos is a charming, walkable pioneer-style town. The main drag is dotted with wine tasting rooms, antique stores, and tasty eateries. The beloved Bob's Well Bread Bakery is renowned for its all-day breakfast fare with dishes like egg-in-a-jar and mushroom toast. The hot and cold sandwiches are equally satisfying vehicles for their award-winning breads, and you'll want to stock up on pastries to go.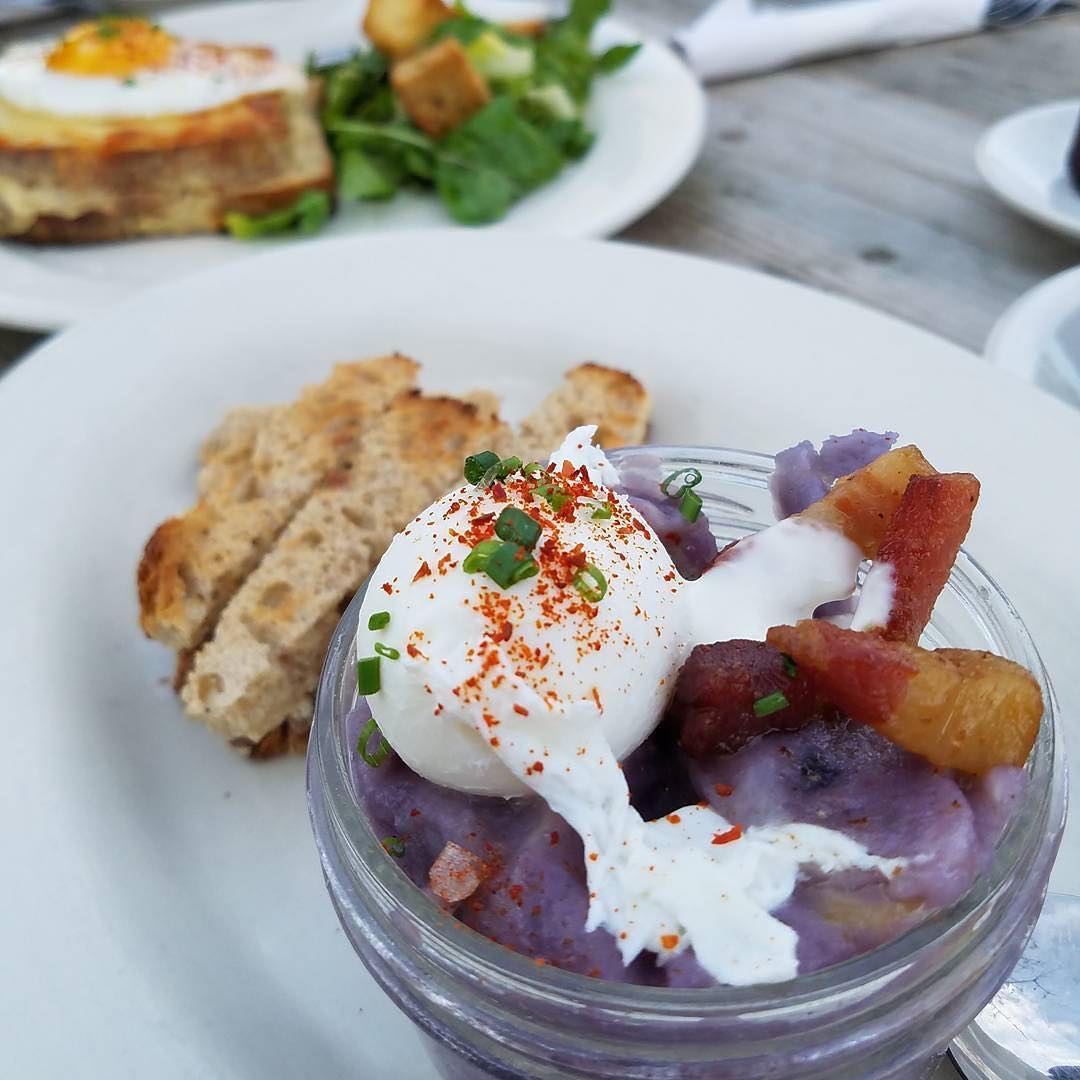 Plenty on Bell is another local staple serving breakfast and lunch. Hearty breakfast favorites include Jesper's Short Rib Hash, the breakfast burrito, and biscuits and gravy. Lunch is all about the sandwiches and salmon niçoise, while the chef keeps things simple, rich, and savory for dinner, be it steak frites or chicken pot pie. Satisfying sandwiches, nourishing salads, and hearty rotisserie chicken are on the menu at Bell's. The family-run, French-inflected gem is helmed by Daisy Ryan, who Food & Wine magazine deemed one of America's "Best New Chefs," who has earned the esteemed establishment a Michelin star. Bell's currently offers first-come, first-served outdoor seating, with the option to order takeaway as well. Dinner is a five-course prix fixe experience with the flexibility to customize.
PICO at the General Store is open by reservation only. The dinner spot has outdoor seating in a garden setting along with limited indoor tables (per current regulations). Expect a menu of sustainably sourced seasonal fare prepared with ingredients procured from local farms and a wine list that also features tasting flights from their own label, Lumen.
Full of Life Flatbread helped put Los Alamos on the map as a culinary destination several years ago. The regularly changing menu of salads, soups, and wood-fired flatbreads celebrates the bounty of local farms and ranches, and the flatbreads made in the wood-burning stone hearth are the real star of the show. The buzzing outdoor atmosphere and bright flavors make this a divine dinner destination—and you're likely to be dining alongside many a local winemaker, who are among Full of Life's regulars.
Restaurants in Ballard
Bob's Well Bread Bakery of Los Alamos fame recently opened a second outpost in the adorable hamlet of Ballard, the smallest and oldest community in the Santa Ynez Valley. The café occupies the historic Ballard Store space. Here, you'll find a similar delectable menu of baked goods and made-to-order brunchy eats as the Los Alamos original. While you're in the neighborhood, don't miss the 1883 Little Red Schoolhouse and say "hi" to the miniature donkeys.
The Gathering Table restaurant is a destination in and of itself. Chef Budi Kazali's signature fusion of Asian and French cuisine has long received accolades, including a constant presence in the Zagat guides. Reservations are required for a memorable dining experience.
Restaurants in Santa Ynez
Another Valley standout tucked in the Wild Western town of Santa Ynez, SY Kitchen serves elegantly modern Italian fare in an airy farmhouse with lovely patios. The lunch and dinner menu features salads, handmade pastas, wood-fired pizzas, and grilled meat and fish dishes. Their craft cocktail program is a big draw, too—expect innovative mixology and a rotating line-up of seasonal sips.
If you're craving the flavors of Mexico, Dos Carlitos has you good and covered. Open daily, the upscale Mexican eatery is noted for its attention to detail, from the handmade tortillas and meats off the Parilla. Pair the Mexican specialties like enchiladas verde and pork pozole with award-winning tequila and mezcal cocktails.
Restaurants in Los Olivos 
A former stagecoach stop dating back to the 1860s, Los Olivos is home to dozens of wine tasting rooms, art galleries, and upscale boutiques. Los Olivos Café & Wine Merchant is a delightful lunch and dinner spot that doubles as a wine shop, so you know the wine list is solid and hyper-local. Their menu features a variety of farm-fresh salads as well as sandwiches, pastas, and burgers.
The newest kid on the block is Nella Kitchen & Bar. The latest project from the same team of Italian natives behind SY Kitchen, Nella currently serves dinner Thursday through Sunday evenings. The menu features Roman Flatbreads known as "Pinsas," creative salads, and beautifully plated mains like orate, duck, and filet mignon. As with SY Kitchen, the cocktail offerings are top shelf and the wine list is a blend of Santa Barbara County and European vintages.
If you're seeking quality takeaway picnic fare to bring to a winery, Panino is a reliable local sandwich shop with locations around Santa Barbara County. The menu features 30 different sandwich creations, so there will be something for every dietary preference on the spectrum.
Upscale dining is prevalent in Los Olivos, starting with coastal cooking at Michelin-Plate-awarded Bar Le Côte, an unsuspecting blue-painted tavern in the quaint town of Los Olivos, where executive chef/co-owner Brad Mathews is firing up coastal California-inspired plates influenced by the rich heritage of Spanish and Portuguese cuisine. From fresh clams and oysters to flavorful paella and dry aged branzino dishes, the heart and soul of this restaurant lies in its love for the sea.
The Tavern at The Inn at Mattei's Tavern takes ranch-inspired cuisine (and interior design) to another level. Many ingredients on the menu are harvested from the resort's on-site garden and sourced from local farmers. Feel right at home in the countryside while indulging in the restaurant's acclaimed elevated, seasonal dishes.
Restaurants in Buellton 
Tucked in an unassuming industrial park in Buellton where many wineries have production facilities, Industrial Eats is a casual eatery with serious culinary cred—known for their comprehensive butcher shop selection—think ribeye, foie gras, oysters, duck, rabbit, and sea urchin. With a menu category of "not pizza" populated by salads and sandwiches, you know the pizza is damn good here, too. Pop over to their neighbor Alma Rosa Winery for a tasting pre or post-feast.
You'll want an empty stomach for dinner at Hitching Post II. This family-owned and operated steakhouse was a local favorite long before Sideways made it famous. Hitching Post is equally beloved for its steaks (grilled over an open fire of red oak) as it is for its Hitching Post label pinot noir selection. In traditional, old school steakhouse style, entrees come with ample portions of starters, sides, and dessert. Hitching Post is currently serving dinner in their large outdoor tent illuminated with twinkling lights. You can also experience their grilled flavors with lunch at the adjunct Hitching Post Wine tasting room next door.
Locals were over the moon to see the recent return of The Tavern at Zaca Creek. After decades of being shuttered, the beloved Buellton haunt has been reborn and reimagined. The iconic landmark property is once again home to an inviting rustic-chic restaurant and bar with lunch and dinner (including expanded hours for Sunday brunch). The menu features a range of meat, fish, and poultry dishes and also caters to vegans and vegetarians with daily selections of plant-based creations.
Restaurants in Solvang
Naturally, the Danish Village of Solvang is renowned for its Danish cuisine, particularly the baked goods and made-to-order breakfasts. Paula's Pancake House is a classic—as the line of patrons awaiting tables will reveal. The thin Danish style pancakes and scrumptious aebleskivers (like a hybrid of a pancake and donut) are well worth the wait. After your meal, you can pop into Olsen's Danish Village Bakery for some sweets to-go.
Solvang dishes out much more than traditional Scandinavian fare and baked goods these days. If you time your visit for a Wednesday through Sunday night, book a dinner reservation at First & Oak. Considered one of the valley's most sought after dining experiences, the Michelin-endorsed eatery invites you to customize your own tasting menu.
Ramen Kotori is another Solvang standout created by a husband and wife team who have worked in some of California's finest kitchens. Ballard Inn's Budi Kazali is also a partner in their endeavor. Currently serving lunch and dinner, the Japanese-inspired menu features small bites like bao bun with pork belly and crispy chicken, plus a variety of ramen dishes. There's even a kid-friendly menu with simpler items to appeal to younger palates.
Don't let the name fool you—Peasants Feast boasts a decadent selection of dishes fit for a king and has deservedly landed itself a Bib Gourmand ranking. Inspired by classic Californian cuisine and seasonal farm-to-table fare, you'll find items like the savory mushroom toast, fresh baby gem salad and a mouth-watering pastrami smoked salmon sandwich on the menu.
Coast Range, a unique eatery that gets its inspiration from a variety of global cuisines, resides right in the heart of Solvang. It showcases dishes of the land and sea variety, with high-quality favorites like local rock crab, wagyu beef and black cod and has earned a Michelin Plate ranking.