There's no denying that Santa Barbara's skyline, peppered with white stucco walls and red-tiled roofs, provides the city with a striking backdrop of style and charm. And while the buildings may look similar to one another, each structure has its own unique story from past generations and highlights the evolution of downtown Santa Barbara. 
For those who like fresh air and don't mind a bit of walking, we recommend lacing up a pair of comfy shoes and taking a stroll downtown along the self-guided Red Tile Walking Tour*. The full tour includes 17 stops and 22 historic adobes dating from the 1700s through the 1800s and embodies the best of our city's Spanish-style architecture. You'll discover smooth, white-stucco walls, memorable red tile roofs, flower-bedecked courtyards, hidden passageways, notable restaurants, theaters, museums, and architecturally significant government buildings. 
As you make your way from one stop to the next, enjoy short distances and flat terrain. And because everything is either on State Street or just off it, a reviving snack or an iced mocha is never too far. To accompany your stroll, view or print out the Official Red Tile Walking Tour Map in advance of your journey. Click here for the map, provided by Santa Barbara Car Free. 
*Please check with individual businesses for hours of operation. 
Stop 1
The Santa Barbara County Courthouse* (1100 Anacapa Street), on the National Registry of Historic Places, an official list of places deemed worthy of preservation, serves as the starting point for the tour. This iconic and still-functioning courthouse is notably beautiful with its distinctive four-faced clock tower, red tile roof, elegant arches, and lush gardens. A fun point of note–the famous Sunken Garden was once a bull ring in colonial times, and the paintings in the second-floor Mural Room were created by a background painter for film director Cecil B. DeMille. But just as an in-person visit is the only way to get a true sense of the magnificent courthouse, so too only a trip to the top of the 80-foot-tall bell tower can provide the bird's-eye view of the red-tile district that awaits exploration below.
Stop 2
Cross Anacapa Street to the elegant Spanish-style and architecturally eclectic Santa Barbara Public Library (40 E Anapamu Street) in the heart of downtown. 
Stop 3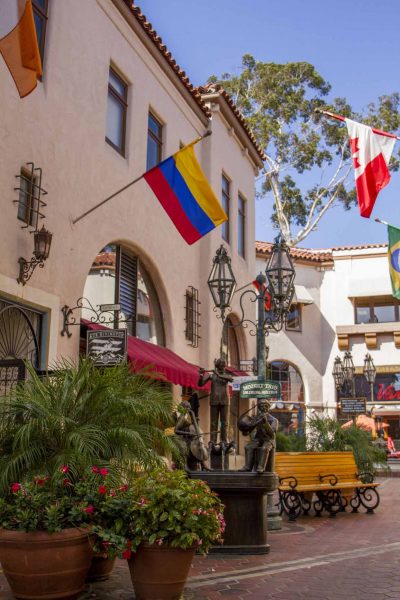 Go west on Anapamu Street to the Santa Barbara Museum of Art (1130 State Street), home to a collection of ancient through contemporary works and photography, represented by Asian, European, and American artists. You'll also see the charming La Arcada Courtyard (1114 State Street), framed by tall Spanish Revival-style buildings and lined with shops and galleries, the narrow lane conjures images of Spain – except, perhaps for the assortment of life-size bronze sculptures, including one of Ben Franklin sitting.
Stop 4
At Carrillo Street, turn left to the historic Hill-Carrillo Adobe (11 E Carrillo Street) which boasts the city's first wooden floor and has hosted community gatherings and meetings since its original construction in 1826. 
Stop 5
Walk back out to State Street, go south two blocks and enter the quaint El Paseo (813 Anacapa Street) complex through the midblock arcade which opens onto a courtyard that offers an ideal setting for an outdoor lunch. 
Stop 6
To reach the next stop, continue through El Paseo to De la Guerra Street to enter the courtyard of Casa De la Guerra (15 E De La Guerra Street), an adobe residence that was constructed between 1818 and 1828 by José de la Guerra, the fifth comandante of the Presidio. 
Stop 7
Cross the street to see De la Guerra Plaza which was designated a Public Square in 1853 and has since served as Santa Barbara's center of town. It was the location for the original police and fire stations and is the venue for events such as Old Spanish Days. Next to it stands both City Hall and the offices of the Santa Barbara News-Press. 
Stop 8
Cross back and continue on De la Guerra Street toward Anacapa Street to the Oreña Adobes (27-29 E De La Guerra Street). Constructed in 1849 by Don José de la Guerra, these adobes were originally used to house supplies brought in from ships anchored in the harbor.
Stop 9
Cross Anacapa Street to the oldest street in Santa Barbara, Presidio Avenue. From there, venture through the Presidio Gardens on the site of the Presidio parade grounds. The gardens were created in 2001 when archaeologist Mike Imwalle started the Presidio Heritage Plant Project with a heritage Spanish colonial grape. Leave the way you came, and cross De la Guerra Street to the Santiago de la Guerra Adobe, one of the city's oldest structures. 
Stop 10
Right next door, the Lugo Adobe (114 East De La Guerra Street), nestled in a picture-perfect courtyard. Constructed in 1830, this is one of Santa Barbara's oldest buildings from El Pueblo Viejo (the old town).
For a mid-tour pit stop, do as the locals do and explore the shops, eateries, tasting rooms and more within Santa Barbara's Presidio Neighborhood. 
Stop 11
Continue to the corner of De la Guerra and Santa Barbara streets to visit the Santa Barbara Historical Museum (136 East De La Guerra Street), one of the oldest cultural institutions in Santa Barbara and home to a vast archival collection of documents and artifacts. The Museum's stunning courtyards evoke the romance of early Spanish California in Santa Barbara's historic district. 
Stop 12
Around the corner and down Santa Barbara Street, you'll find Casa Covarrubias (713 Santa Barbara Steet), one of the oldest buildings in the city, and the adjoining historic adobe. Today the adobe is the site for weddings, Old Spanish Days Fiesta events, and other community activities.
Stop 13
Retrace your steps, cross De la Guerra Street, and walk to Santa Barbara Street to the Rochin Adobe (820 Santa Barbara Street). This site is among the oldest in the city and was built with some of the bricks salvaged from the Presidio walls. Families that have lived here have lineages that stretch back to the earliest days of Santa Barbara.
Stop 14
Just ahead you'll find El Presidio de Santa Barbara State Historic Park (123 E Canon Perdido Street) at the corner of Santa Barbara and Canon Perdido streets, which is a site for the last of four military outposts built by the Spanish along the coast of Alta California. Turn left on Canon Perdido Street and take note of the reconstructed Presidio Chapel and Cañeda Adobe, named after the Presidio soldier to whom it was deeded when the Presidio became inactive. 
Stop 15
On the other side of Canon Perdido Street find El Cuartel, the family residence of the soldier assigned to guard the western Presidio gate. This building is the oldest remaining in Santa Barbara and the second oldest in California.
Stop 16
At the corner of Anacapa Street, you'll find the Spanish deco-style Main Post Office (836 Anacapa Street). Built in the mid-1930s and designed by architect Reginald Johnson, the building is also on the federal government's National Register of Historic Places.
Stop 17
You've made it! Diagonally across Anacapa Street is the last stop at Lobero Theatre (33 East Canon Perdido Street), California's oldest, continually operating theatre, originally built in 1873 as an opera house in a refurbished adobe school building. This cultural gem hosts local and nationally known events from Santa Barbara Choral Society to the Santa Barbara International Film Festival, as well as notable artists like Pat Metheny, Jeff Bridges, Bill Frisell, and Charles Lloyd, who credit the Lobero among their favorite venues.
Proceed up Anacapa Street to end your memorable tour back where you first began at the Santa Barbara County Courthouse. After all of that walking, treat yourself to a nice meal, refreshing craft brew, or pour of local wine. For ideas to whet your appetite click here.