Santa Barbara is a family-friendly destination in every sense. Not only do our attractions appeal to all ages and a wide variety of interests, several of our attractions also offer accessible experiences for children with disabilities. From the eternally popular Santa Barbara Zoo and innovative MOXI museum to nature-based adventures like beachgoing and horseback riding, the whole family can experience the best of Santa Barbara together. Hotels, attractions and restaurants throughout Santa Barbara adhere to ADA guidelines, including allowing trained service animals on premises.
Following is a guide to activities available to people who use wheelchairs as well as some experiences created specifically for children who are autistic, blind or deaf.
MUSEUMS & CULTURAL ATTRACTIONS
MOXI, The Wolf Museum of Exploration + Innovation
MOXI, The Wolf Museum of Exploration + Innovation was designed to be as inclusive as possible in order to make its beautiful modern facilities, fascinating exhibits and programs accessible to all. Navigating MOXI in a wheelchair is easy between the ramp at the entrance, elevators and accessible restrooms on every floor. Access MOXI, a sensory-friendly app, was created for visitors with autism and sensory processing disorders, and it can help anyone who would benefit from previewing the museum in advance of a visit. Onsite, complimentary sensory backpacks are available at the front desk on a first-come, first-served basis. They are filled with items to make MOXI more enjoyable for those with sensory needs. Further sensory-friendly modifications are made to the museum during "Mellow Mornings at MOXI," a monthly offering on select Saturdays. Ticket sales are limited to 50 guests to reduce capacity, a handful of exhibits are turned off or have their sound lowered, lights are lowered and designated comfort areas are established–among other adjustments to make the experience as pleasant and fulfilling as possible.
Santa Barbara Zoo
Set on 30 acres, Santa Barbara Zoo is home to more than 146 species of animals and just opened a new Australian Walkabout exhibit dedicated to the animal life down under. The zoo recently became a Certified Autism Center by the International Board of Credentialing and Continuing, and sensory backpacks are available for a $5 rental at the admissions window on a first-come, first-serve basis; they can also be reserved in advance by calling (805) 962-5339. The packs include a zoo car, fidget cube, noise-canceling headphones, squeeze balls, scavenger hunt and animal squeeze toy. The zoo offers wheelchair and Electric Convenience rentals at the main gift store, accessible parking and a visual story to help prepare for your adventure. 
Santa Barbara Museum of Art
Featuring a world-class collection of art from around the world, the newly renovated Santa Barbara Museum of Art is fully wheelchair accessible, including an elevator to access the gallery floors, dedicated wheelchair seating in the auditorium and a wheelchair lift with security professionals available nearby to assist. For people with visual impairments, large format labels of exhibition texts are available along with verbal description tours. The museum offers Otojoy hearing loop technology to people who use hearing aids for events in the auditorium that utilize the Museum's sound system.
Museum of Sensory and Movement Experiences
Pronounced "miss me," MSME, the Museum of Sensory and Movement Experiences is one of Santa Barbara's newest cultural attractions located in La Cumbre Plaza. Created by a local media artist, Marco Pinter, the museum is dedicated to experiential art and works are designed to get out of your higher-level brain and experience movement. According to Pinter, many of the pieces have resonated very well with children with autism. Out of the 10 experiences inside, two are tactile and one is auditory. All but one piece are fully wheelchair accessible.
Santa Barbara Museum of Natural History
Santa Barbara Museum of Natural History houses an intriguing and educational collection of more than 3.5 million specimens with permanent and temporary exhibits spread out among indoor and outdoor gallery spaces. Most exhibits are accessible to people who use wheelchairs, with the exception of Farrand Auditorium, Space Lab and Gladwin Planetarium. To help access outdoor exhibits, including those in areas with uneven ground, the museum offers Jill's Cart, an electric cart with a wheelchair lift (if a person in a wheelchair is riding, there's room for one other passenger sitting next to the driver). For groups needing special accommodations, the Museum is able to further enhance accessibility if requests are made in advance. Contact [email protected] or call (805) 682-4711 ext. 100 to book Jill's Cart or to inquire about other arrangements.
Inclusive Arts Clubhouse
Grace Fisher Foundation's Inclusive Arts Clubhouse invites children and young adults living with a disability to experience this interactive space centered in creativity. Through art, music, dance and other programming, the Inclusive Arts Clubhouse aims to build community among those living with a disability and to provide an all-encompassing outlet for imagination, expressiveness and education. Grace Fisher, the foundation's namesake, was inspired to create her foundation in 2016 after becoming paralyzed from the neck down at the age of 17. It was her introduction to music therapy and adaptive art that sparked the eventual opening of the Inclusive Arts Clubhouse. The space features a variety of different creative stations for art classes, a dance floor, gallery walls for art exhibits and quiet areas.
THE GREAT OUTDOORS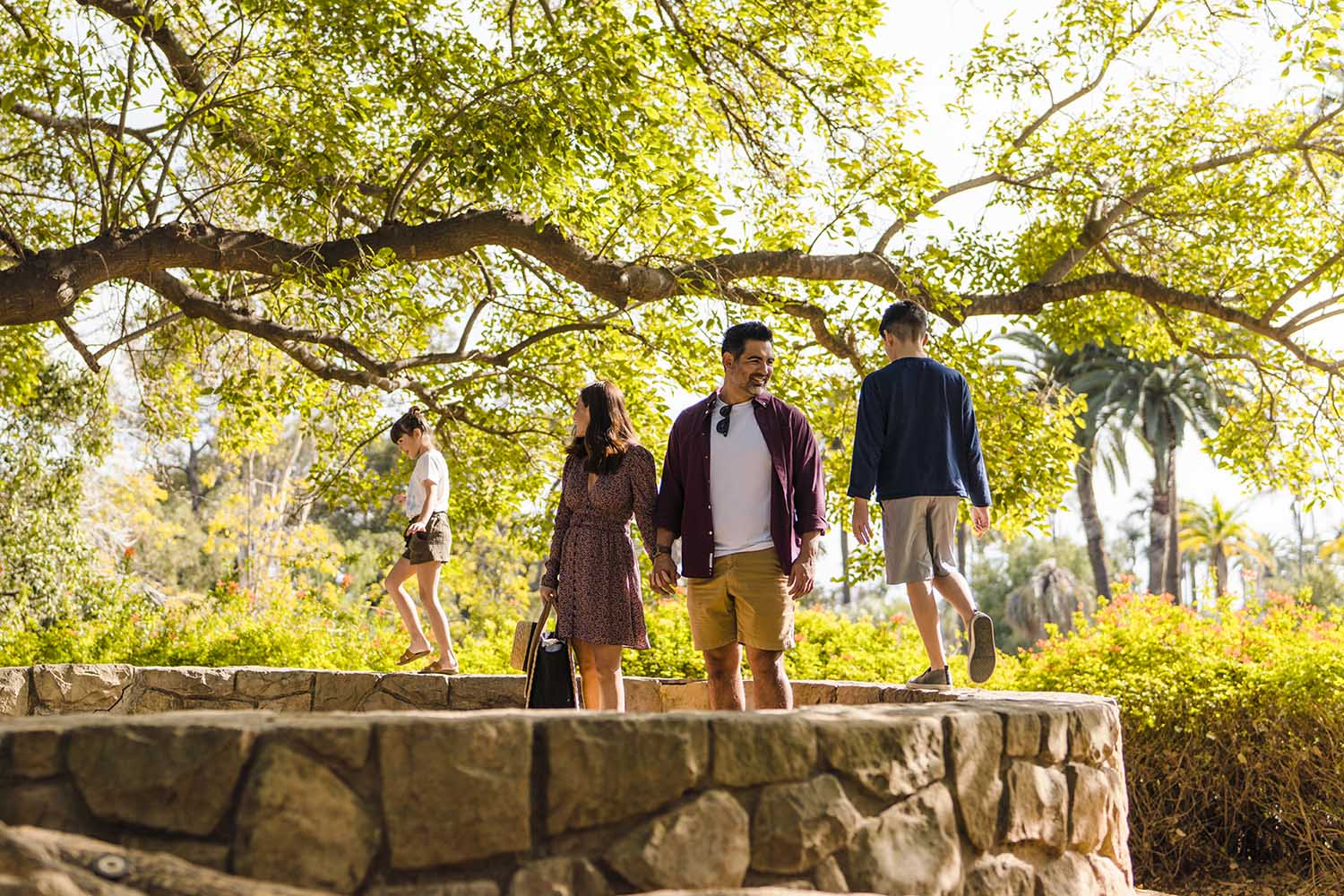 Local Beaches Offering Beach Wheelchairs
Thanks to a grant from the California State Coastal Conservancy, the City of Santa Barbara currently has two beach wheelchairs—one manual and one motorized—available to the public free of charge. Based at the Cabrillo Pavilion at East Beach, they are available for use seven days a week during regular operational hours. When you're planning your visit, go to the City Parks Department's online reservation system where you can reserve a beach wheelchair for two-hour windows that begin at 8 a.m. and conclude at 4:45 p.m. daily. If you need further assistance, call the Cabrillo Pavilion staff at (805) 897-2680.  
Other area beaches that offer beach wheelchairs include Arroyo Burro (805) 687-3714, Goleta Beach Park (805) 967-1300 and Jalama Beach (805) 736-3504. These free-of-charge beach wheelchairs are managed by Santa Barbara County Parks and reservations are recommended in advance to ensure the wheelchairs will be available. Site-specific phone numbers are listed above, and you can also try the general number for all county beach parks: (805) 729-7508. All three of these county beaches have restaurants onsite so you and your family can make a day of it!
Alice Keck Park Memorial Gardens
One of Santa Barbara's most beloved local parks, Alice Keck Park Memorial Gardens, features a sensory garden with tactile, wheelchair accessible pathways, audio posts and Braille signs for people who are visually impaired. The peaceful urban garden is home to more than 75 botanical specimens and features a koi pond, butterfly garden and picnic areas. The sensory garden immerses visitors in a variety of scents and sounds as well as the interesting textural variation of the plant foliage. Learn more about Alice Keck Park Memorial Gardens
Stay Tuned for Gwendolyn's Playground
The community is excited about the coming debut of a new $6 million playground currently in the fundraising stage. Gwendolyn's Playground will be purpose-built as an all-inclusive public space set on 9 acres donated by the City of Santa Barbara, who will also fund the infrastructure costs. The park will feature sports fields, accessible play structures, art installations, a music garden and much more. Learn More about Gwendolyn's Playground
Horseback Riding
Santa Barbara County is home to a vast equestrian community. Hearts Therapeutic Equestrian Center serves people of all ages and abilities with therapeutic horsemanship. Lessons are individually designed to meet each participant's particular needs, and their team of therapeutic horses and professionally trained guides have helped people who use wheelchairs and children who are blind, deaf and autistic have an incredible experience. Alisal Ranch also has wranglers who specialize in leading rides for children and youth with autism.
Take a Surfing Lesson
Santa Barbara Adventure Company's talented team of guides has experience giving surfing lessons to children and adults who are blind, as well as those living with some mobility limitations. So, if there's an aspiring surfer in your family, give them a call to see what's possible.
CHERRY ON TOP
Support Special Needs Families at Kyle's Kitchen
With four locations in Santa Barbara, Kyle's Kitchen was created by a local family to support children with disabilities like their own. Offering family-friendly dining featuring a menu of crowd-pleasing comfort food favorites and American classics, a portion of proceeds from the Santa Barbara, Goleta and Isla Vista restaurant locations are donated to organizations and initiatives dedicated to improving the lives of people living with disabilities. The burgers, fries, salads and shakes are made with thoughtfully sourced ingredients, so you can feel just as good about what's going into your family's bellies as the positive impact of patronizing this locally owned business!