The seaside town of Goleta, located approximately nine miles north of Santa Barbara, is home to much more than the University of California, Santa Barbara. Known agriculturally for its avocado and lemon tree farming, this slice of the Santa Barbara South Coast is not-to-be-missed during your vacation to The American Riviera®.
Explore the great outdoors, discover delectable new restaurants and breweries, play a round of golf or a game of bowling. The possibilities are endless when you're in The Good Land.
one: Parks and Beaches in Goleta
Goleta is sprinkled with plenty of ways to get into nature, as the flora and fauna of the Santa Barbara South Coast is some of the most breathtaking in the state. Pay a visit to some of Goleta's beloved open spaces, such as the Coronado Butterfly Preserve inside the greater Ellwood Mesa Open Space. Both rich in biodiversity, the Coronado Butterfly Preserve is a quaint 9.3-acre land preserve that showcases native species of eucalyptus, coastal sage scrub, birds and monarch butterflies, while Ellwood Mesa Open Space encompasses a total of 78 acres, perfect for long walks, casual biking, running and horseback riding in addition to an abundance of wildlife, trees and plants.
Lake Los Carneros, a haven for outdoor recreation, is part of the historic Rancho La Patera and provides a peaceful retreat into nature just minutes outside of Goleta proper. Many visitors take advantage of the open space for activities like biking, walking and wildlife observation. The backdrop of the Santa Ynez Mountains paired with the stillness of the lake appeals to adventurers of all ages and abilities.
Time spent by the sea isn't overlooked in Goleta, where visitors can find many beautiful beaches to soak in the sunshine. Haskell's Beach, a public beach located at The Ritz-Carlton Bacara, Santa Barbara, is a tucked-away oasis complete with picnic benches and a long stretch of soft sand excellent for sunbathing. A little further north, beachgoers will find the palm tree-lined Refugio State Beach, positioned perfectly for enjoying the sunset.
Two: Goleta Libations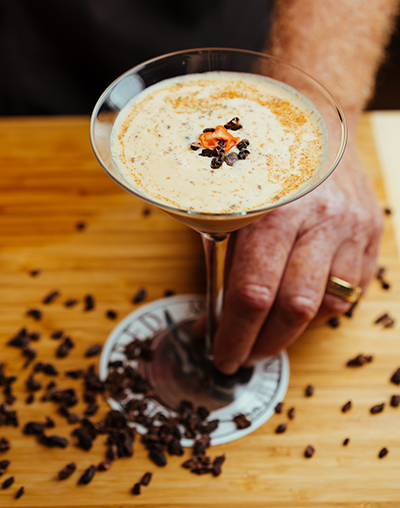 Goleta is fondly referred to as The Good Land for many reasons—one arguably being that it's home to quite a few local breweries, wineries and distilleries. Established in 2018, Goleta Red Distilling Company produces nearly every kind of spirit in-house. Think: Vodka, rum, gin, agave spirit and amaro. Made with local ingredients, a stop at Goleta's only distillery is a must. Made with grapes grown in the Sta. Rita Hills, SAMsARA Wine Co.'s Goleta tasting room—Goleta's only winery and tasting room—offers tastings of its limited releases of Pinot Noir, Syrah, Grenache and Chardonnay, where the tasting fee is waived with the purchase of two bottles.
M. Special Brewing Company, a local staple, is the ideal nook for beer tasting and enjoying live music both day and night. As the main location for brewing its unique beer, M. Special's Goleta facility got its start with a beer obsession and a dream, which led to popular brews like Sabado Tarde and M. Special American Lager becoming favorites in the Goleta beer-drinking scene. The Captain Fatty's Brewery tap room offers imaginative beers such as the Chisme Mexican Lager or Calypso Cucumber Sour for the more adventurous beer aficionado.
Easy drinking is Draughtsman Ale Works' forte. Choose from a selection of ales, lagers and more at this local brewery before popping over to Camino Real Cinemas for a movie. Cider fans: This one's for you. Santa Barbara Cider Company, the only hard cider brewery in Goleta, takes the cake when you mix fruity tasting notes with the fermentation process.
Three: Goleta Golf Courses
Let the ocean be your backdrop at Sandpiper Golf Club, named one of the Top 100 Public Golf Courses by Golf Digest. Located on a seaside bluff, this 7,000-yard, links-style course puts players front and center by the ocean. The front nine of Glen Annie Golf Club plays around lakes and waterfall features; the mountain-front holes offer ocean and Channel Island views. Another Goleta favorite, Twin Lakes Golf Course, sits on 19,000 square feet of land with nine lush holes to tackle. It offers group coaching and private lessons and is a friendly course for golfers of every age and skill set. 
Four: Fun and Games
Let the indoor and outdoor recreation scene in Goleta release your inner child. Start with ultimate frisbee at Evergreen Disc Golf Course, located in Evergreen Park, with 18 holes to play. Looking to do something indoors? Hit the rink! Ice skating doesn't have to be enjoyed only in the winter—think of it as a way to cool off during the heat of the day! Ice in Paradise, a non-profit ice skating rink, offers public sessions every day of the week from 1:30 p.m. to 4:30 p.m. Is there an avid bowler in the group? Bowlero Santa Barbara is equipped with 24 bowling lanes, a sports bar, an arcade and private rooms for larger groups. There's no shortage of recreation and entertainment in Goleta with these establishments.
Five: Goleta Restaurants
Goleta doesn't disappoint when it comes to must-try restaurants. Choose from an extensive and elaborate menu of Mexican cuisine at the award-winning restaurant, Los Agaves, with entrées like the Agaves Enchiladas, Burrito Mojado or Fajitas. The contemporary yet authentic atmosphere of the Goleta location, complete with Spanish-style detailing, is the perfect setting for dinner with the family or a casual date night. Featuring a quintessential Santa Barbara design aesthetic, Caya Restaurant inside of The Leta Hotel highlights a diverse menu of cuisine influenced by Chinese, Mexican, Japanese and American cultures. Start with something light, like the Strawberry Fields Salad, or dive into a more hefty meal, like the Fish Tacos or the Fried Chicken Sando.
If a more off-the-beaten-path restaurant is top of mind, pay a visit to Nikka Fish Market and Grill—another Goleta favorite. With plates like Nikka Cioppino to the popular Avocado Bomb that incorporate flavors from Mexican, Japanese, Thai and Sri Lankan cuisines, satisfy your seafood craving at this eatery. Find fresh, high-quality fish and creative sushi rolls at Goleta Sushi House, in addition to its hot entrée offerings. An elevated dining experience awaits at the family-owned Jane at the Marketplace, where patrons can dine on classic American cuisine with a bit of a European flare. Order the Grilled Lamb Chops or choose from a variety of brick oven pizzas.