Movie theaters in Santa Barbara
Cinema and Santa Barbara go hand-in-hand. The film industry originally set up in Santa Barbara back in the early 1900s when Flying A Studios opened on West Mission Street. Filmmakers were drawn to the region's mild climate and diverse landscapes that could double for faraway lands like Africa and Europe. Hundreds of silent films and westerns were produced locally before the industry relocated and planted permanent roots in Hollywood.  
Star-Spotting in Santa Barbara
The entertainment industry left a lasting legacy in Santa Barbara and stars continued to escape to The American Riviera® over the decades for business and pleasure. Charlie Chaplin kept a toe in town with his Montecito Inn, which he opened with investors in 1928. Screen legends like Sir Laurence Olivier and Vivien Leigh exchanged their wedding vows at the glamorous San Ysidro Ranch. Rock Hudson was one of the many leading men who frequented Four Seasons Resort The Biltmore Santa Barbara, while Clark Gable, Hedy Lamarr and Carol Lombard were among those who retreated to El Encanto, A Belmond Hotel.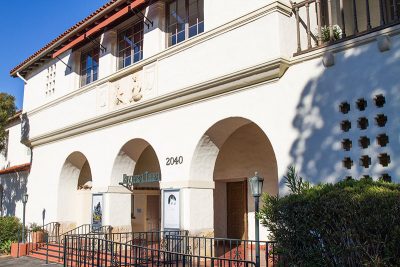 To this day, many Hollywood stars still choose to live a quieter life in Santa Barbara while benefiting from our close proximity to Los Angeles. The star-spotting potential increases significantly during the annual Santa Barbara International Film Festival (SBIFF). SBIFF is a key stop on the "Awards Season" circuit and attracts filmmakers and top talent from around the world. In 2024, visit Santa Barbara for 11 days of screenings, panels and tribute events, where audiences can hear directly from the year's best performers and directors during engaging Q&A discussions.  
Film and television production is also still alive and well in Santa Barbara County. Between car commercials, television shows and movies, the region hosts hundreds of crews who come to take advantage of the abundance of mansions, ranches, undeveloped coastline, Spanish-Colonial architecture and other eclectic locations. More recently, you may have spotted Santa Barbara backdrops in Mike Mills' "20th Century Women" (2016) or in season two of Amazon Prime's "Goliath." Other high-profile credits over the years include "Scarface" (1983), "Seabiscuit" (2003), "Sideways" (2004), "There Will be Blood" (2007), and "It's Complicated" (2009). Movie buffs can take a self-guided film tour or follow the tried-and-true "Sideways" wine trail. 
Local Movie Theaters
Watching a movie any time of year is an elevated affair in Santa Barbara thanks to our character-rich movie theatres. Arlington Theatre was originally built in 1930 as a showcase movie house for Fox West Coast Theaters. The Mission Revival style theatre is elaborately decorated to give the audience a feeling of being outside in a courtyard with a starry sky painted on the ceiling. Newly released feature films are shown here regularly when special performances and events aren't on the schedule.  
Perched in the Riviera neighborhood overlooking the city, Riviera Theatre was originally built in 1926 as part of the original University of California, Santa Barbara campus and it became a movie theatre in 1965. Fast-forward to 2017, when it was completely renovated and upgraded by the current owner-operators, SBIFF. The 328-seat theatre is among just a couple dozen in the U.S. equipped with a state-of-the-art Dolby Vision laser projector and Dolby Atmos sound system. Keeping with tradition, the theatre still specializes in art house and foreign films, and the sweeping views of the city and sea below are an added bonus to catching a film here.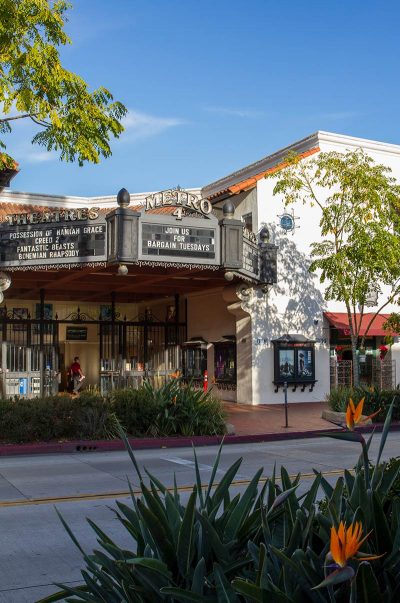 Our other go-to local theatre for independent and foreign films is Hitchcock Cinema & Public House uptown. This is the theatre to hit when you want to enjoy libations like craft beer and wine while you watch your movie. They also offer a menu of elevated fare like mac 'n' cheese bites, sliders and gourmet personal pizzas. Paseo Nuevo Cinemas, located in the heart of the downtown shopping district, now features a similarly upgraded menu complete with beer and wine. Here you'll find all the latest popular releases. Other State Street staples where you can view the latest new releases from a comfortable stadium seating perch with classic movie snacks include Fiesta 5 and Metro 4. 

Goleta is home to the Fairview Theatre and Camino Real Cinemas—both have multiple screens and stadium seating. 
Summer Courthouse Film Series
If you visit Santa Barbara in the summer, be sure to take advantage of a beloved local tradition—the free outdoor cinema series presented seasonally by UCSB's Arts & Lectures on Wednesday and Friday evenings. The Summer Courthouse Film Series is set in the courthouse sunken gardens, with the architectural landmark building adding drama to the picturesque backdrop. As early as noon on film days, attendees can save a spot with a picnic blanket or low back chairs. Guests are also encouraged to bring food and beverages to enjoy with the film and a cozy layer is recommended to stay warm after the sun goes down.