When it's time to get centered or you're simply in need of some soul-soothing TLC, consider a wellness weekend in Santa Barbara. Our destination is the perfect antidote to the nonstop pace of our hectic modern world. Life moves at a relaxed pace here, and the friendliness of our locals is known to lift spirits. Serenity can be easily found on the water, in the mountains, and amidst tranquil gardens and parks throughout the region. Whether you're seeking a mental health reboot, digital detox, or pure pampering, our health and wellness gurus cover the full spectrum of self-care services and Mother Nature is always on hand to work her magic. Here's an escape plan to introduce you to some of our favorite places and things to do when you're ready to unplug and exhale.
Please Note: This is not a bookable travel package, but instead inspiration for how you can build and plan your own wellness getaway to the Santa Barbara South Coast. 
Day 1
After you arrive in Santa Barbara and get settled into your hotel, clear your head with a refreshing walk or bike ride along the waterfront Cabrillo Bike Path, breathing in the fresh sea air. You could also consider a peaceful stroll through the aromatic natural wonderlands of the Santa Barbara Botanic Garden. Or, visit the Mission Rose Garden for a meditation session with the Queen of the Missions as your historic backdrop.
Nothing is more grounding than practicing yoga outdoors. Sol Seek Yoga is currently offering weekday evening classes under the stars at the historic Casa de La Guerra, along with afternoon and weekend classes at La Mesa Park. You can also get your alfresco Om on with CorePower Yoga, Yoga Soup, and Santa Barbara Beach Yoga—the latter hosts silent disco style "Sound Wave Sessions" right on the sand. Check out our complete guide to Santa Barbara Yoga Classes for more details and yogi-friendly resources.
No matter how you opt to clear the cobwebs and tune into the laid-back Santa Barbara vibe, make dinner a healthy yet indulgent affair at a restaurant like Oliver's Montecito. Their 100% organic vegan menu and premium garden-to-glass cocktails are served in an upscale airy farmhouse-style atmosphere.
Day 2
Watching the sunrise is hands-down one of the most inspirational ways to start a day. Refer to our guide to the Best Santa Barbara Hiking Trails to find the perfect trail for you. One tried-and-true local favorite for both sunrise and sunset is the hike to Inspiration Point. Hit the trail bright and early to reach the top just in time to watch the sun illuminate the city and sea. The short version of the hike is just under four miles round trip, so be prepared with water—or even a pressed juice from Juice Ranch.
If you prefer to ease into the day and want to watch the sun come up without breaking a sweat, consider grabbing a bench at Shoreline Park, taking a leisurely trek through the Douglas Family Preserve, or planting your feet in the sand at Thousand Steps Beach. After basking in the glory of the sunrise, stop by Backyard Bowls for a nourishing and refreshing Açai bowl.
Treat your skin and lungs to a cleansing private Himalayan salt cave session at Salt Santa Barbara. The healing powers of halotherapy—breathing air saturated with salt particles—can be traced back to the 12th century and is looked to as a natural and effective way to improve respiratory health. The Salt Santa Barbara cave walls and ceiling are made of 45 tons of Jurassic-Age salt blocks and crystals, and the floor is covered with crushed salt, so the atmosphere is infused with micro-particles of salt that can be easily absorbed through the skin and deep into the lungs. All you do is close your eyes, relax and breathe for 45-minutes while laying on a mat or sitting in a zero-gravity recliner. 
In the afternoon, head to the foothills of Montecito to revel in the peace and quiet of the 46-acre Vedanta Temple. The ocean view grounds and temple are open until 7:00 p.m. daily. Then browse your way through the globally inspired wonderland that is Sacred Space in nearby Summerland. Oprah herself is a customer, to give you a sense of the caliber of their spiritually inclined offerings. The shopkeepers will welcome you to explore, whether you're in the market for gifts, a talisman for yourself, or something decorative for the house or garden. Be sure to take advantage of their meditation gardens out back.
Afterward, head down to Summerland Beach to relish in the fresh sea air. Then, head back to Santa Barbara for a delicious plant-based dinner at Mesa Verde. If you still have some energy and want to connect with the cosmos, take a drive out to Camino Cielo off Highway 154 to do some stargazing.
Day 3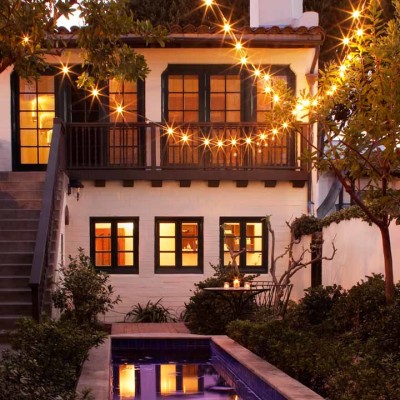 Start your final day with a Matcha at Green Table and pick up a wrap to-go for your Gaviota Hot Springs hike. Drive north on the 101 towards Gaviota State Beach and enter "Gaviota Park Boundary Road, Goleta, CA 93117" into your GPS to locate the parking area at the trailhead. The springs are just a half-mile from the trailhead, so if you're not hiking all the way up to Gaviota Peak, it's a relatively easy round trip loop that takes 45-minutes. The top pool is ideal for soaking in the healing mineral-rich waters.
To cap off your wellness weekend, book yourself an afternoon massage appointment at Float Luxury Spa. Let your therapist knead you into a puddle of bliss as you let the benefits of the past few days settle into your mind, body, and spirit.