Simple math will quickly tell you that with more than 20 tasting rooms from which to choose, one day of wine tasting in Santa Barbara is simply not enough. The city's famed Urban Wine Trail stretches across two distinct downtown neighborhoods, each offering its own unique wine and dining, so relax (this is a vacation after all), grab some comfortable shoes and let your palate lead the way for a few days of delicious experiences.
DAY ONE: The Funk Zone
The eclectic enclave that borders the beach is home to most of the Urban Wine Trail's tasting rooms, all of which have their roots in the sprawling valley just on the other side of the hill. Visit a working winery first with a stop at Whitcraft. Founded by the late Chris Whitcraft, a local pioneer, this small hands-on winery is now run by his son, Drake. It's all about small-production pinot noir and chardonnay here. After a tour through the barrel room, you're ready for lunch.
Metropulos is just down the street, and here you can peruse the unique assortment of international foods as the kitchen preps your gyros. Made over three days—a method that starts with fresh ground lamb and beef and features proprietary seasonings—these sandwiches have a local cult following. Sit outside and savor the gyros at your leisure.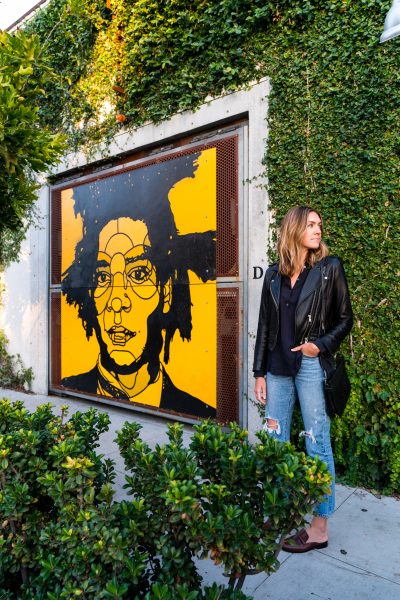 Before the winemakers moved in, it was the artists who gave the Funk Zone its assorted personalities. There are more than a dozen galleries and studios here. Give your palate a rest and visit the Maune Contemporary, where visitors can view contemporary and modern fine art prints created by renowned international artists.
Up for a little adventure? Bike to nearby Santa Barbara Winery for a taste of the Rhone wines that Santa Barbara grows so well, like syrah and grenache. Sip viognier for the first time and fall in love. As the afternoon winds down, it becomes the perfect time to get back on your wheels and roll onto Stearns Wharf. Past the restaurants and near the souvenir shops, head upstairs to Deep Sea Wines. Refresh with a glass of grenache blanc and take in the sunlit foothills in the distance as they meet the palm-lined beach. Santa Barbara's "American Riviera®" epithet suddenly makes perfect sense.
End the day with a walk to The Lark for dinner. It's worth making reservations well in advance for patio seating, and the dining approach here—plates are served family-style and meant for sharing—allows you to graze through a bevy of the fresh, seasonal creations on the menu. Then, Uber to Carr Winery nearby for live music and a final glass of sangiovese before calling it a night.
DAY TWO: The Presidio Neighborhood
Stick close to the waterfront and dine at On the Alley for breakfast, followed up with a beachside stroll, just as fishing boats return with their morning catch. The second chapter in your Urban Wine Trail experience will take you deeper into the city, with a five-minute drive to the charming Presidio Neighborhood.
Between the highly acclaimed wine labels that call this neighborhood home and the Spanish Colonial Revival architecture, the Presidio's portion of Santa Barbara's Urban Wine Trail is sure to impress. You'll find many of the area's wineries clustered along a stretch of Anacapa Street and another couple on El Paseo, making it easy to taste a few places during a short stroll. As far as varietals are concerned, you'll find plenty of Pinot Noir, Chardonnay and some Bordeaux grapes (among others) in this part of town.
Elegant, historic and full of surprises, Paseo de la Guerra is a destination all its own. This is the Urban Wine Trail's northern nook;six high-end labels pour here. The man behind the Au Bon Climat wines—the legendary late Jim Clendenen—is internationally known, and the tasting room still pours several of his tougher-to-find labels, too. Pinot noir and Italian blends are his calling card. Sneak around the corner and through the picturesque courtyard to Grassini Family Vineyards, where estate wines hail from the warm Happy Canyon region. Need to grab a few souvenirs for friends back home? Take home a bottle (or several) to taste and educate your friends and family about Santa Barbara's diverse wine regions.
For a taste of history, walk the self-guided tour at El Presidio Historic State Park. Known as the birthplace of Santa Barbara, and dating back to 1782, this was the Spanish explorers' last California fortress. Inside the chapel, you'll feel like time has stood still.
Pause for lunch and dine in the sunshine at Panino. Enjoy Italian inspired soups, salads, and sandwiches while you admire the picturesque views of the Presidio Neighborhood. Soon, the trail leads you back to Casa de la Guerra, where you can enjoy a glass of wine at Jamie Slone Wines Tasting Room. Choose from a selection of Pinot Noir or Chardonnay and sit at the bar for an intimate tasting.
Cater to the shopper in you by heading around the corner to stylish Paseo Nuevo. When the need to unwind becomes inescapable, cross the street to Salt and head to the Himalayan salt caves underground. A 45-minute session here, with music playing as you recline on zero-gravity chairs, is a soothing way to detox.
And with that, you've only scratched the surface of Santa Barbara's Urban Wine Trail.