Downtown is the true heart of Santa Barbara, where all of the action emanates from tree-lined State Street. This is where you'll find the biggest concentration of shops and eateries, along with museums, galleries, theaters, architectural landmarks, and nightlife. To help allow for added space to safely social distance, State Street is closed between Gutierrez and Sola blocks to vehicular traffic. You can now use this area for walking and biking. However, please walk and bike with use caution, as many restaurants have expanded service onto the sidewalks and streets.
As you wander downtown, admire the picturesque red-tile roofs, white-washed adobe buildings, and splashes of fuchsia bougainvillea as you meander through the many open-air paseos with their bubbling fountains and colorful tilework. This neighborhood guide will help make you feel like a part of the community too. Read on for more insider tips on where to eat and shop and what to see and do Downtown.
Things to Do:
Downtown Santa Barbara is arts and entertainment central. Check out the latest temporary exhibitions and impressive permanent collection at the Santa Barbara Museum of Art—admission to the museum is currently $10. Pop into Sullivan Goss: An American Gallery to view the ever-changing and cutting-edge exhibitions.
See how local architect and "Like a Local" downtown guru Jeff Shelton puts a contemporary spin on Santa Barbara's signature architectural style. Take a self-guided walking tour of his imaginative downtown buildings that include restaurants, residences, and mixed-use projects.
If you need a dose of wellness, downward dog alongside Santa Barbara residents at popular Downtown studios Yoga Soup and Core Power Yoga. Or pop into Salt Santa Barbara for a fitness class or Zen session soaking up the healing air in their Himalayan salt caves.
Places to eat:
Downtown Santa Barbara abounds with restaurants off and on State Street. Start your day noshing on Scandinavian-style superfood breads at Oat Bakery, the nourishing passion project of our "Live Like a Local" Downtown Santa Barbara Insider, Louise Fontana.

If you're struggling to choose between the many delicious options, embrace variety and graze your way through Santa Barbara's food halls and culinary hubs. The Santa Barbara Public Market houses favorites like Empty Bowl Gourmet Noodle Bar, Corazon Cocina and Ca' Dario Pizzeria Veloce—and, on the sweeter side, Rori's Artisanal Creamery. Kim's Service Department (a former auto dealership and service station) is home to buzzy drink hot spots  Shaker Mill and Modern Times Academy of Recreational Sciences. Head to Mosaic Locale to try Buena Onda Empanadas, and Draughtsman Aleworks. And Sevilla Square specializes in fast-casual spots like Juice Ranch, Backyard Bowls, Santa Barbara Roasting Co., D'Angelo Bakery, and Lily's Tacos.
Where to SHOP: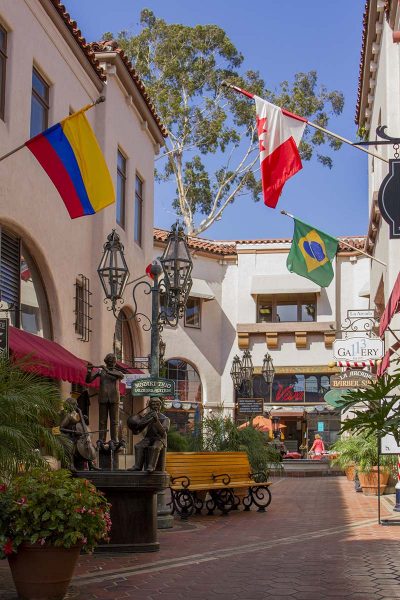 Paseo and plaza hop as you shop your way up and down State Street in search of unique and stylish goods to bring home. Paseo Nuevo is Downtown's largest shopping center with dozens of chain retailers like Lululemon and Sephora. La Arcada Court offers designer Catherine Gee's flagship store and Renaissance Fine Consignments for women, Ace Rivington goods for men, Lewis & Clark's antiques, a trio of local art galleries and more. Arlington Plaza is home to locally-owned luxury retailers including the trio of DIANI boutiques, Treat, and Santa Barbara Fine Art. Down in Sevilla Square, don't miss Riviera Towel Company and Chapala & Parker.
INSIDER INSPIRATION:

 
Visit the Tuesday and Saturday downtown farmers' markets to shop alongside locals and the region's top chefs and bakers—like our friends from Oat Bakery and the Santa Barbara Public Market. The Tuesday afternoon market is on the 500 and 600 blocks of State Street from 4:00 to 7:30 p.m. Saturday's market is even bigger and runs 8:30 a.m. to 1:00 p.m. on the corner of Santa Barbara and Cota Streets, just a couple blocks off of State.
IF YOU LIKE Downtown Santa barbara, WE'D ALSO RECOMMEND: