During the month of April, Santa Barbara's events calendar is filled with festivals aplenty. From Founding Day Celebrations to Music and Wine Festivals, you'll wish you had planned to stay all month long. Here's a list of can't-miss festivals during the month of April.
SANTA BARBARA BOWL
The Santa Barbara Bowl's 2018 Concert Season is in full swing during the month of April, including performances by HAIM (April 7), alt-J with Special Guest BØRNS (April 16) and Portugal. The Man (April 21). After dinning at one of Santa Barbara's many-delicious restaurants (perhaps La Super Rica Taqueria, a favorite of Julia Child), end your day at this intimate outdoor amphitheater, holding 4,900 seats. The venue is a favorite of well-known artists who come back year after year, including eco-conscious musician Jack Johnson, who has partnered with the Bowl to provide concert goers with the opportunity to purchase a reusable cup, helping to reduce the number of single-use plastic cups per concert season.
Book Your Stay
SANTA BARBARA VINTNERS SPRING WEEKEND
Cheers to good wine, delicious food, and time spent with friends during Santa Barbara Vintners Festival Weekend, April 19-23, 2018. Now in its 36th year, visitors from all over gather in Santa Barbara for a taste of Santa Barbara wine country. For only $50, purchase a Vintners Visa to enjoy the hospitality of 12 unique Santa Barbara wine country tasting rooms.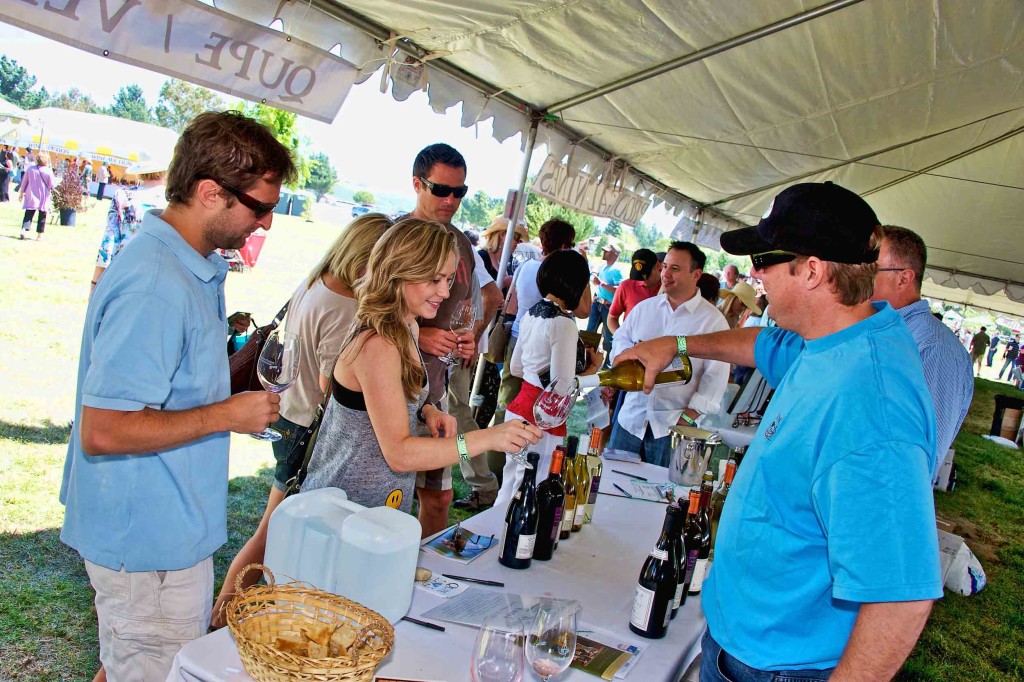 The highlight of the weekend is the Festival Grand Tasting on Saturday April 21, 2018. As you walk through the beautiful River Park in Lompoc, your glass will be filled with the newest releases from your favorite Santa Barbara county winemakers. Pair your savory sips with samplings from local food purveyors as you delight in live music, wine and culinary demonstrations, and local artisans. Tickets start at $70 for General Admission. Avoid the crowds and upgrade to Early Entry for $100 to enter the festival 60-minutes early.
FOUNDING DAY FESTIVAL
Did you know that located in the heart of Downtown Santa Barbara is El Presidio de Santa Bárbara State Historic Park? Rich in Santa Barbara history, this 5 1/2-acre park preserves the site of the last Spanish fortress, or presidio, founded in Alta (Upper) California in 1782. To commemorate 236 years of history at the birthplace of Santa Barbara, visitors and locals alike are invited to attend the Founding Day Festival on Saturday April 28, 2018. Bring the family to El Presidio de Santa Bárbara State Historic Park, to enjoy a costumed reenactment of the original Founding Ceremony held in 1782 and other family-friendly activities across the Presidio grounds.
Attendees of this free event will be entertained with an afternoon of living history stations, stage performances by local Mariachi and flamenco dancers, and tours that focus on the history and culture of California. Additionally, guests will experience what life was like in Santa Barbara during the late-1700s through heritage gardening, colonial cooking, pottery making, Chumash storytelling, archaeology, and more.
EARTH DAY
Santa Barbara's love affair with festivals is a tale as old as time. So much so that Santa Barbara was home to the first-ever Earth Day Festival. Established back in 1970, the Santa Barbara Earth Day Festival is held each April to celebrate, connect and recharge with two full days of entertainment, education and community-building. Now in its 48th year, this year's festival will take place April 21-22, 2018 at Alameda Park. Highlights of the weekend include the annual Green Car Show, the largest collection of efficient and alternative fueled vehicles in Southern California, a free bike valet with complimentary bike tune-ups and secure all-day parking, a 'Homegrown Roots Zone' that connects attendees with local farmers, food and beverage artisans, two full days of music, and a beer and wine garden featuring local beer and wine.