Planning a date night to impress your significant other can be tricky, especially if you've already crossed many of the stereotypical date night activities off your list. But have no fear, with so many things to do in this multifaceted city, a romantic evening in Santa Barbara is not hard to come by.
We've done the work for you in crafting some of the most creative date night experiences Santa Barbara has to offer. On your next vacation to The American Riviera®, we implore you to embark on one of these things to do in Santa Barbara for couples—whichever fits you and your partners' personalities best.
For the Gourmet Gurus
For couples that like to place a heavy focus on sipping and savoring, this one's for you. Teeming with dozens of acclaimed restaurants, wineries, breweries and cocktail bars, Santa Barbara has made a name for itself as a top foodie destination in California. To kick off a date night to remember, head to the eclectic Funk Zone for a wine tasting at The Valley Project, where you can take a palatable tour through all of Santa Barbara's unique American Viticulture Areas (AVAs). Follow the tasting with fresh, authentic California cuisine accompanied with the warm, inviting ambiance at Bouchon. With menu items featuring the local catch straight from the Santa Barbara Channel, free-range chicken and farm-fresh produce, a meal at Bouchon is a taste of quintessential coastal fare. Bouchon also offers a unique experience for those who enjoy learning where their food comes from; every Tuesday afternoon or Saturday morning, chef Greg Murphy leads a farmers market stroll, where guests can select the components of their meals at a Santa Barbara Certified Farmers Market and then enjoy a relaxing evening at the restaurant with a three-course dinner and wine pairing made with the bounty hand-picked earlier that day. Finally, end the night with a scoop of Santa Barbara sweetness: a visit to McConnell's Fine Ice Creams.

Overnight stays we recommend for this itinerary: Kimpton Canary Hotel, Hotel Californian, The Simpson House Inn
For the Adrenaline Junkies
Santa Barbara is one of the best destinations for thrill-seekers that like to feel the exhilarating rush of all things outdoor recreation. Start the date off by taking in the sweeping views of the Santa Barbara coastline by parasailing 1,000 feet over the ocean with Santa Barbara Parasail or soar over dry land and find your inner trapeze artist with Santa Barbara Trapeze Co. After working up an appetite, head to downtown Santa Barbara for uniquely crafted cocktails at Shaker Mill, a tropical oasis that neighbors Broad Street Oyster Company, a purveyor of straight-from-the-sea bites, including Santa Barbara uni (sea urchin), California spiny lobster, oysters on the half-shell, shrimp, crab and more—a seafood-lover's dream. After filling up on all the delicious seafood imaginable, walk up the street to House of Clues, where perplexing, themed escape rooms of varying difficulty levels await.
Overnight stays we recommend for this itinerary: Drift, Hilton Santa Barbara Beachfront Resort, The Waterman
For the Hopeless Romantics
Santa Barbara is surrounded by surreal and diverse scenery and incredible Spanish-style architecture. It's also filled with plenty of dreamy excursions and romantic restaurants, making for an idyllic getaway for lovers. Start the evening off strong with a ballroom dancing class at Arthur Murray Dance Studio (beginners welcome!), where students can master a variety of different partnered dance styles, like the waltz, foxtrot, salsa and tango. Then, slow down the pace for a relaxing evening with dinner at Olio e Limone Ristorante, an intimate Italian restaurant tucked away in Victoria Court located just off State Street, serving up authentic Italian cuisine with a Sicilian approach and an impressive wine list of local and Italian selections. A romantic evening in The American Riviera® wouldn't be complete without a visit to the historic Arlington Theatre, where you can catch a popular feature film any night of the week. A step inside the theater is like taking a step back in time—with red-tiled buildings flanking the theater, reminiscent of a cobblestone street in Spain, and the iconic red seats providing a sense of movie-going nostalgia.

Overnight stays we recommend for this itinerary: De La Vina Inn, The Eagle Inn, Hideaway Santa Barbara
For the Wellness Seekers
It isn't hard to find inner tranquility here in The American Riviera®, from breathtaking vistas to endless ocean views. And what better way to start a rejuvenating date with your sweetie than with a yoga class to keep you both grounded and centered? Partake in a low-intensity rooftop or full moon yoga class with Santa Barbara Beach Yoga. Late afternoon yoga classes are offered weekly in tranquil settings like the rooftop of the Cabrillo Pavilion or the famed Carousel House; the full moon yoga class is held once a month, where yogis can practice the ancient Tibetan and Himalayan techniques of sound healing and meditation. You'll leave relaxed and ready for your next stop of the evening: facials at Float Luxury Spa. Think outside of the box when it comes to happy hour and indulge in the spa's signature facial, which includes skin analysis, deep cleansing, exfoliation and light extractions to decongest pores. Close out the evening with dinner at Satellite, a plant-forward, farm-to-table restaurant that keeps the words "healthy" and "delicious" at the forefront when crafting the menu. Satellite is also known for its wide selection of natural and ethically sourced wines—so grab a glass and cheers to a romantic evening of wellness.
Overnight stays we recommend for this itinerary: Inn on Summer Hill, The Ritz-Carlton Bacara, Santa Barbara, Secret Garden Inn and Cottages
For the Aesthetes
Santa Barbara captures architectural influences from all across Europe, but particularly takes to the Spanish-style buildings and red-tile roofs of Spain. For those that want to see and learn a side of the city that not many others get to experience, the city-wide Amazing Scavenger Hunt is the go-to activity. From just your phone, you and your date can explore the history of the city through a series of clues and challenges. Or, take it slow and peruse the many art galleries sprinkled on and around State Street, like Maune Contemporary and Sullivan Goss: An American Gallery. After getting acquainted with the city, quench your thirst (and appetites) at Augie's, a dazzling restaurant specializing in elevated Mexican cuisine and designed by local architect Jeff Shelton. (To learn more about his work throughout Santa Barbara, take park in this walking tour.) With authentic tequila at top-of-mind and an array of happy hour bites to choose from, Augie's is a creative's haven for all things architecture and fare. Complete the evening of city-strolling with a live show at SOhO Restaurant and Music Club, an intimate music venue in the heart of Santa Barbara. Want to explore other places in Santa Barbara to see live music? Check out this guide.
Overnight stays we recommend for this itinerary: Cheshire Cat Inn, The Leta Hotel, Palihouse Santa Barbara
For the Folks on a Budget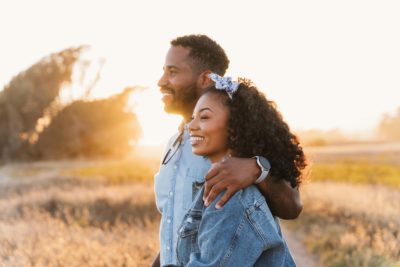 Date night on a budget doesn't mean skimping on a memorable experience. Rent bikes from Santa Barbara BCycle and start the evening with a leisurely ride along the esteemed Santa Barbara Taco Trail, where Julia Child-approved street tacos, authentic bites and seafood-centric cuisine are served up at an affordable price. Visit the late Julia Child's favorite place to get a street taco, La Super-Rica Taqueria, relish in recipes passed down for generations at Lito's Mexican Food or savor the always-fresh baja fish tacos at East Beach Tacos. After getting your fill of the taco trail, head to happy hour at La Paloma Café, where the margaritas are plenty (and inexpensive!), or venture to Goleta for a dreamy evening under the twinkling lights at Roof Top Bistro and Bar. The happy hour menu consists of a variety of small bites and draft pints starting at $5. Then, end the night with an idyllic moonlit beach walk at Goleta Beach Park or East Beach, depending on what side of town your happy hour takes you to.
Overnight stays we recommend for this itinerary: Beach Bunny Cottage, Beachside Inn, Ramada by Wyndham. For additional affordable hotels in the Santa Barbara area, click here.
For the Big Spenders
While Santa Barbara wears many hats to accommodate a variety of different travelers, it is most certainly the place to treat yourself if you fancy luxurious, once-in-a-lifetime experiences. Enjoy a romantic and intimate picnic on the beach with light appetizers to start—just let Santa Barbara Picnic Co. handle the set-up and breakdown. All you and your date have to do is sit back and take in the serene setting. Then, giddyup on a sunset horseback riding excursion with Los Padres Outfitters (beginners welcome!), or set sail aboard SV Kelpie with SunSwept Sailing for an unforgettable private sunset cruise along the Santa Barbara coastline. Then, celebrate the end of an eventful day over dinner at Caruso's at Rosewood Miramar Beach, which received its first Michelin Star in 2022 (read here for more Michelin-approved restaurants in the Santa Barbara area).

Overnight stays we recommend for this itinerary: El Encanto, a Belmond Hotel, Rosewood Miramar Beach, San Ysidro Ranch