We've got a knack for helping people celebrate, and that's why many soon-to-be-weds choose to host their bachelorette and bachelor parties in Santa Barbara. Whether you're getting married on The American Riviera® and taking advantage of the convenience of holding your parties in the same trip, or simply looking for a destination to gather your closest friends for an epic few days of fun before you say "I do," Santa Barbara ticks all the boxes for bachelorettes and bachelors. 
Popular bachelorette party itineraries include a mix of wine tasting, spa time, shopping, and excellent eating. Bachelor party revelers often blend golf, craft beer crawls, time on the water, and nights on the town. Whatever activities call to you and your crew, the diversity of options, ease of getting around, and general joie de vivre in the air will help create a celebration that will go down in the memory books. 
Follow along for 10 activity ideas to inspire your itinerary planning as well as a few practical tips for lodging and dining.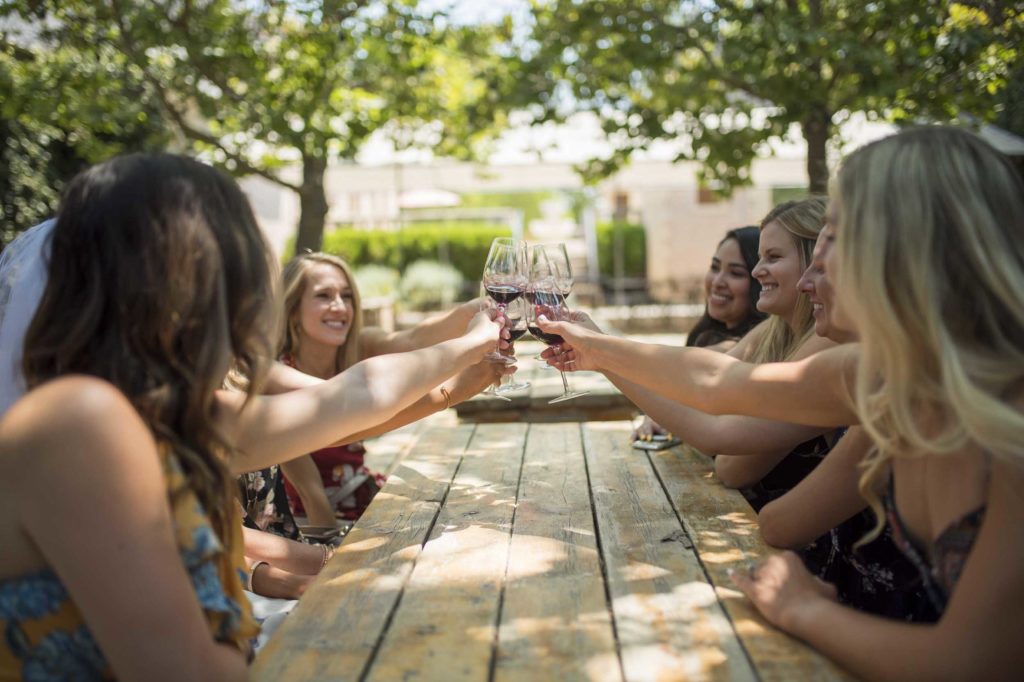 Wine Tours, Beer & Cocktail Crawls
Santa Barbara County is a hub of makers across the libations spectrum; there are more than 200 wineries in the region, more than 20 craft breweries, and even a few distilleries. Needless to say, you've got options aplenty! Wine and beer tours and cocktail crawls are an inherently festive way to explore the area and bond with your guests—and discover a few new favorite vintages or brews along the way.
If it's wine you wish to swirl and sip, there are countless ways to tour and taste. For groups, inclusive guided tours are the way to go with transportation, tastings, meals, and other extras bundled into the experience. Santa Barbara Wine Country Tours has a luxury sprinter van that's ideal for groups; you can have them customize a tour or go with one of their classic offerings such as the Santa Ynez Valley Wine Tour, Cupcake & Wine Tour, or Wine & Bike Tour. Destination Vine is another group specialist that can whisk your group away to wine country for a day. They create bespoke private wine touring experiences which can include horseback riding, hot air ballooning, hiking, and biking. If you don't want to dedicate a whole day to wine tasting, consider the Totally Cali Wine & Chocolate Walking Historical Tour, a three-hour experience in downtown Santa Barbara with two winery tastings. And if you prefer a more do-it-yourself, unstructured approach, the Urban Wine Trail in downtown Santa Barbara is for you. (Please note reservations are highly recommended for groups.) 
Beer lovers can use our Craft Beer Guide to map out an informal tasting trek or book the guided Totally Cali Craft Brewery & History Crawl with stops at three breweries and the option to include lunch. Cal Coast Adventure puts an active spin on beer and wine tasting with their Bike and Beverage Tour; bachelor parties can arrange a private version of the tour. Last but not least, if you want to devise a craft cocktail crawl for your party, look no further than our Craft Cocktail Guide.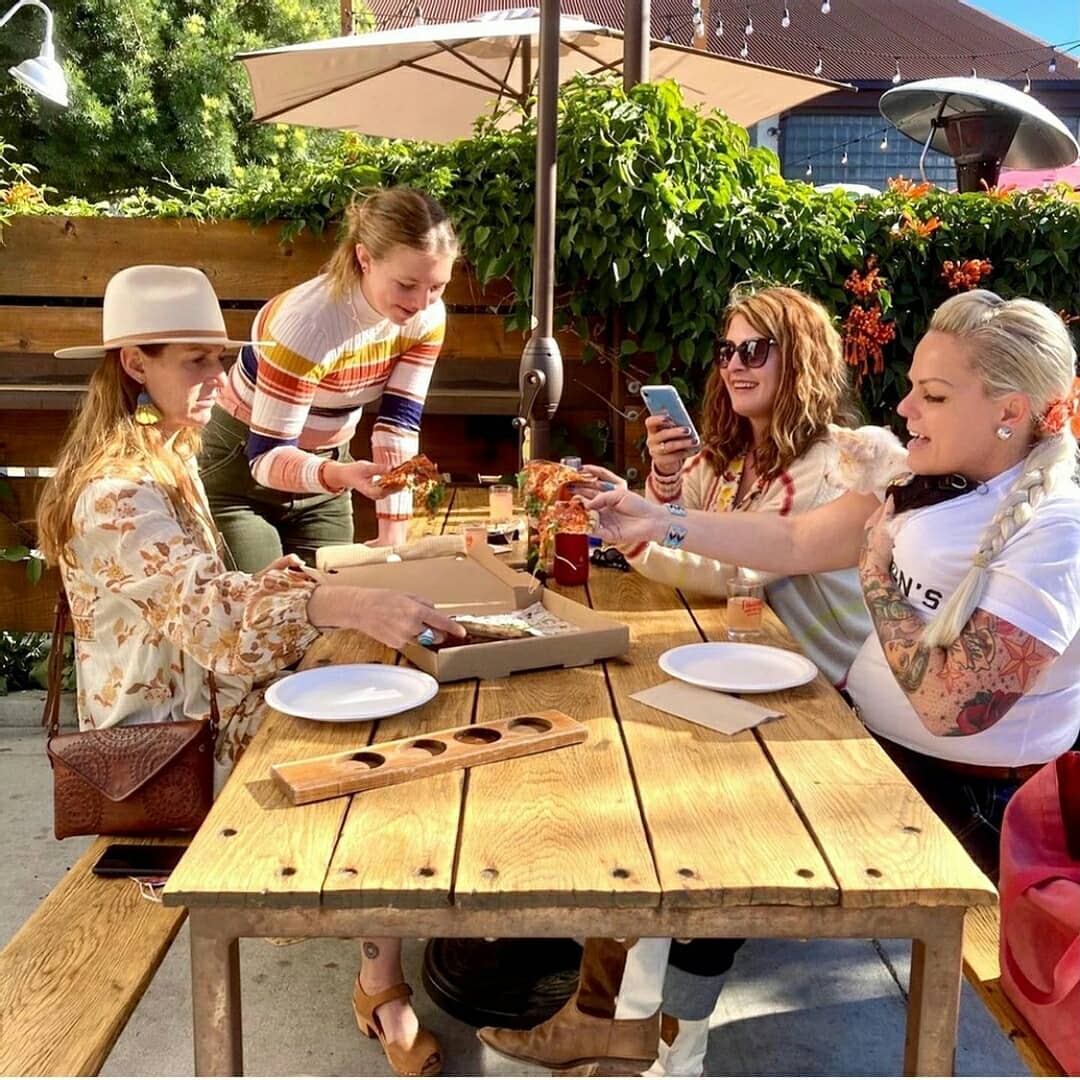 Food Tours
Culinary tours are another delicious way to bring your group together for educational and entertaining bonding. Eat This, Shoot That! Tours are grazing walking tour extravaganzas focused on specific neighborhoods like the Funk Zone. While you're being introduced to local mom and pop eateries, tasting rooms, farms, and shops, you'll get mobile phone photography tips from a pro, upleveling the documentation of your experience. Santa Barbara Tasting Tours blends food tasting, local history, and culinary education—also all on foot so you can get your day's steps in while filling your bellies with flavorful fare.
For something more elaborate, book a private Market Tour & Gourmet Dinner with Bouchon's chef Greg Murphy. This exclusive experience is limited to eight guests and includes an informative foodie stroll through the Tuesday afternoon or Saturday morning Santa Barbara Certified Farmers Market. That evening, Bouchon will host your group for an expertly prepared three-course meal featuring ingredients you saw chef source that very day.
Day Spas and Self-Care
If you'd like to do something low-key and restorative, consider a day of pampering and collective self-care or, better yet, an entire Wellness Weekend. Our larger resort spas have ample space to accommodate groups with individual treatments staggered between pool time, steam and sauna sessions, and wholesome lunches. You could also consider a buyout of Float Luxury Spa, a boutique day spa downtown with a lovely Mediterranean-style courtyard—perfect for sipping champagne post-massage. Salt Santa Barbara is another fun place for pampering. Your group can do a Salt Cave Session together and benefit from the healing powers of halotherapy. For something even quirkier, spend an hour at Cat Therapy cuddling with rescued cats. If getting your Oms on is also in order, several yoga studios offer outdoor yoga classes in beautiful settings, and many are willing to book private sessions.
Shopping
Retail therapy pretty much falls into the wellness category, and bonding while browsing Santa Barbara's unique boutiques will likely result in the acquisition of some stellar souvenirs. Our charming outdoor shopping centers along State Street are known as paseos, and are filled with independent boutiques and galleries, family-owned shops, and the occasional national chain. Map out a paseo-hopping afternoon with stops in Paseo Nuevo, El Paseo, and La Arcada Plaza—with some wine tasting and a leisurely lunch peppered in. Montecito's Coast Village Road is the Rodeo Drive of Santa Barbara, with its upscale boutiques, galleries, jewelry shops, and specialty stores—and some serious star sighting potential. And if your group is fond of homewares, plants, and antiques, spend an afternoon shopping in Summerland. 
Sailing and Boat Tours
Bring your nearest and dearest out to sea for a festive cruise and soak up the dreamy views of the Santa Barbara coastline. Choose from morning sails, half-day whale watching trips, sunset cruises, or Channel Islands charters. A variety of different private charters can be arranged through Celebration Cruises, Sunset Kidd Sailing, and Santa Barbara Sailing Center. Land and Sea Tours offers a 90-minute hybrid city-sea tour in the Land Shark amphibious vehicle that can be booked for groups up to 44 people.
Outdoor Activities
Time spent outdoors is always rewarding. Bring your buds to the beach for a day of sun, sea, and sand. Up the active ante and rent stand up paddle boards or kayaks from Paddle Sports Center or Santa Barbara Sailing Center. There's no better way to explore the coastline from the Harbor to Montecito while getting a great workout—no doubt, having some great laughs and splash fests along the way. If you prefer to stay on land, consider renting bikes and cruising around town along the miles of established bike paths.
Thrill Seeking
Sharing an adrenaline rush will ensure your pre-wedding shenanigans go down in the history books. Plan a day- or multi-day trip to Channel Islands National Park. Considered the "Galapagos of North America" for its pristine natural environment and diverse ecosystem, outfitters like Santa Barbara Adventure Company can lead your group on a kayaking and snorkeling expedition that departs from Ventura Harbor. SCUBA, hiking, and camping are other once-in-a-lifetime experiences in and around the islands in the Marine Sanctuary. Channel Islands Expeditions offers day kayaking trips and specializes in multi-day liveaboard dive trips. Santa Barbara Sailing Center also offers full-service island charters from Santa Barbara Harbor so your crew can sleep aboard and play in the water while a dedicated certified captain takes care of all the boating operations.
If no one in your group knows how to surf, that bucket list item can be checked off your respective lists right here on The American Riviera®. A variety of surf schools and adventure outfitters will patiently teach you the basics and ensure you experience the thrill of riding your first wave. They'll bring all the gear including boards and wetsuits, so you just need to show up ready to dive in and learn.
Aerial adventures will challenge those afraid of heights—and let everyone in your party soar above it all. Santa Barbara Trapeze Co. hosts two-hour flying trapeze classes and are open to booking private group lessons for wedding parties. A less physical but equally high-flying option is heading out on the water with Santa Barbara Parasail to reach 1,000 feet in the air while cruising the coast. You won't be tethered to anything on a paragliding adventure with Fly Above All or Eagle Paragliding, who each offer tandem paragliding flights with a professional as well as more intensive lessons for solo flights. 
Painting Classes
Channel your inner artists with a private group class that awakens creativity. The Painted Cabernet is a "paint and sip" studio on State Street offering painting classes paired with wine. Take that wine theme to the next level with a three-hour alfresco painting class led by Art Spot on Wheels and set in picturesque vineyards. Another unique twist is learning to paint with wine. That's right. Danielle Renee Art offers private painting classes using wine as the paint. And for a completely different creative medium, get your hands sculpting your very own piece of pottery at Clay Studio.  
Night Owls
When it comes to dancing the night away, the bar and club circuit on State Street awaits. Wildcat Lounge is classic Santa Barbara—and Katy Perry approved. EOS Lounge pumps up the volume with its three bars and two dance floors. If you want to hear live music, The Red Piano features a nightly line-up of jazz, blues, and singer-songwriter acts. Irish bar James Joyce has music at least six nights a week—and karaoke on Sunday and Mondays. Check the calendar at SOhO Restaurant and Music Club, where a mix of local and touring acts regularly grace the intimate stage. 
Where to Stay & Eat
Need a place to stay? See our guide of places to stay organized by lodging type, from resorts to luxury camping and bed and breakfast inns. If alternative lodgings appeal to you, check out our Unique Hotels Guide. Or if a swimming pool is a "must-have" on your wish list, see our 12 Amazing Hotel Pools guide. And if you'd like help securing a room block for your bachelorette and bachelor party attendees, Visit Santa Barbara offers a complimentary lead service with an easy-to-use online form.
When it comes to where to eat, we recommend booking reservations well in advance to ensure your group can eat at all the hot spots and brunch nooks. Many restaurants do require reservations to be made over the phone for parties larger than six. Click here for a comprehensive list of Santa Barbara dining options.