Santa Barbara shines bright all summer long, but August is especially vibrant and memorable in our seaside haven. Let the long summer days provide the perfect backdrop for your next coastal getaway while you bask in the sunshine, sip along the sea or treat you and your travel companions to a private, Santa Barbara experience.
And this is just the beginning. As local businesses and activities begin to reopen, we'll continue to update this guide with top things to do and experience. 
Book Your Stay
Old Spanish Days Fiesta
Old Spanish Days Fiesta has been a Santa Barbara summer staple since 1925, as the area's rich heritage comes alive during the first week in August with music, dance, and pageantry. During most years, you can expect a variety of Mercados, lively performances, and colorful cascarones at this community-wide festival. However, due to an abundance of caution surrounding large gatherings, this year's festivities will reimagine the 5-day party, August 5 through 9, and will instead take place primarily on television and online. 
To kick off the festivities, La Fiesta Pequeña will be available for all to see from the comfort of home during a prime-time televised event airing on August 5, which will replay highlights from past La Fiesta Pequeña events. You can also expect a virtual summer concert series called "Fiesta Music & Dance Fridays" that will feature local bands and will highlight restaurants and non-profits typically seen at the Mercados. Culminating with grand performances on August 7 and 8, these virtual concerts will be streamed on multiple outlets, and the community is encouraged to tune in and dance at home. Viva la Fiesta!
Movies Under the Stars in Your Cars
The magic of going to the movies can now be enjoyed at West Wind Santa Barbara Drive-In, thanks to UCSB Arts & Lectures. Every Wednesday evening, audiences can safely drive in to enjoy Grit, Grace & Glory— Movies Under the Stars in Your Cars, a weekly series of family-friendly, feel-good flicks about overcoming the odds. You don't want to miss Bethany Hamilton: Unstoppable on August 5 at 8:30 p.m, followed by Pelé on August 12, and Friday Night Lights on August 19.  
Gates will open at 7:30 p.m., and cars will be ushered in on a first-come, first-served basis. Those who arrive early can enjoy food trucks, concessions, and entertainment directly from your vehicle. Each week will have a featured vendor, so be sure to check which of your favorite Santa Barbara eateries will be in attendance. 
Private Santa Barbara Experiences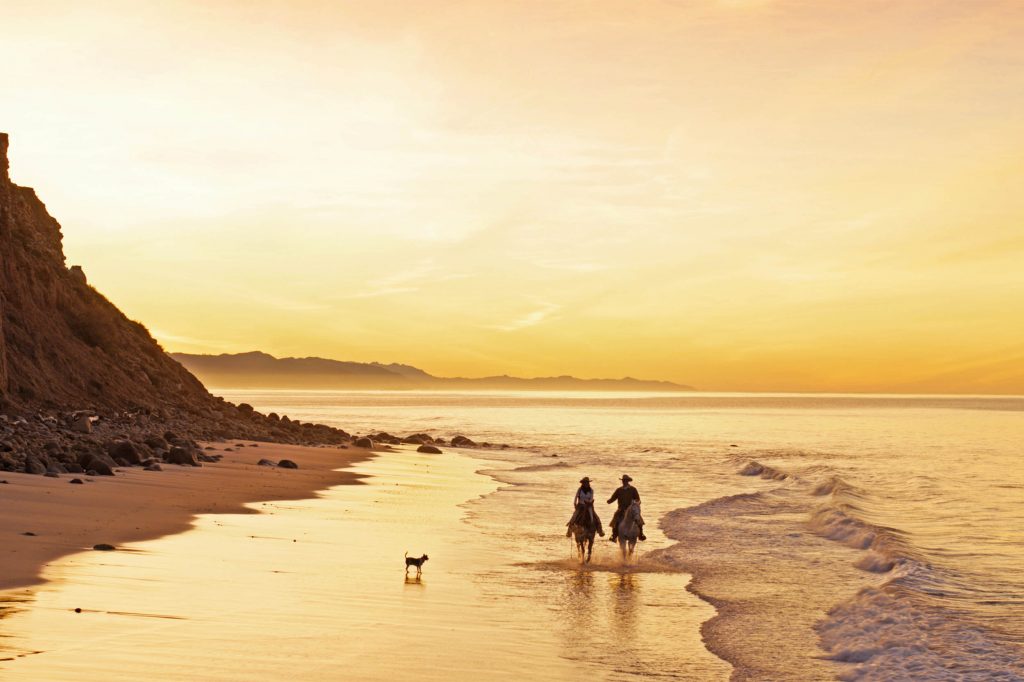 As we try to keep a safe social distance from others, there's ever been a more perfect time to treat yourself to a private tour, class, or adventure. Booking inherently socially-distanced private experiences offered by some of our leading local outfitters will bring you greater peace of mind as you ease back into traveling. From outdoor excursions and memorable meals to expeditions at sea and educational endeavors, here are the quintessential Santa Barbara experiences that can be enjoyed exclusively by Y-O-U and your traveling party. 
Santa Barbara Triathlon
Running, swimming, and biking galore! Whether you are a competitive triathlete, a first-time participant, or somewhere in between, the Santa Barbara Triathlon is an amazing opportunity to bond with friends and family near and far, and to push yourself athletically. From August 9 through 23, you can compete in this year's race at any location and at your leisure–indoors, outdoors, day or night. That's right, the Santa Barbara Triathlon will be a virtual event this year. To be considered an official participant, all you have to do is register with Santa Barbara Triathlon and complete the required distances for your chosen event within the event time frame. After the event, your participant schwag will be mailed to you, including a t-shirt, swim cap, finisher medal, one-year subscription to independent.com, and a free trial of the Tower26 Triathlon Training program.
A few tips? Be sure to abide by local health guidelines while participating, choose safe locations, and responsible timeframes to complete your activities. 
Sipping on the Sea
Cool off with the fresh ocean breeze and chilled craft brew from Topa Topa Brewing Co. at Sipping on the Sea, August 20. Aboard the Double Dolphin, a representative from the brewery will be on board to pour the tastings and provide education on their selection of locally brewed beers. Bask in the golden glow of a famed Santa Barbara sunset near the end of your 2-hour excursion. After sailing the seas and indulging in delicious beer, fill up on seafood from Stearns Wharf, or grab a bite at one of the many open-air restaurants in downtown Santa Barbara.