Photo Credit: Courtesy of Hotel Californian
Santa Barbara is the ultimate dream destination for weddings of all sizes. Whether you're looking to elope in one of the world's most romantic small cities or hoping to stage a grand Great Gatsby-esque soiree, Santa Barbara's diversity of venues and landscapes present an abundance of attractive settings to tie the knot. Beyond the beauty, ambiance, and mild Mediterranean climate, brides and grooms appreciate the ease of getting around the region for rehearsal dinners, ceremonies, and receptions—which are enhanced by the quality of services extended by the impressive roster of local wedding service providers. Your guests will also be inclined to RSVP "yes" to The American Riviera® because it's such an attractive vacation destination and is very easy to get to by air, rail, and car. 
Intrigued? Read on for our list of seven excellent reasons to get married in Santa Barbara.
Diverse Scenery & Vibes
Let's face it, when it comes to creating the perfect big day, looks really are everything, and Santa Barbara has good looks in spades. From impressive Spanish Colonial architectural landmarks and lush, immaculate gardens, to vineyards in the countryside and iconic oceanfront resorts, the region is incredibly diverse and utterly picturesque. The variety of landscapes and settings lends itself to all sorts of different vibes, be it rustic country, sumptuous elegance, barefoot beach chic, artsy and industrial, or modern simplicity. You can hold your ceremony on a boutique hotel rooftop with 360-degree city views; on the sand at sunset; at the landmark Santa Barbara County Courthouse; in a barn on a guest ranch; or under the oaks at the Santa Barbara Natural History Museum. The atmosphere also changes in each of Santa Barbara's neighborhoods and the surrounding communities, as well as the charming towns of Santa Barbara County wine country. The options are endless, yet never overwhelming. Learn More
All-in-One Wedding Destination
One of the biggest selling points for holding weddings in Santa Barbara is the ability to have all of your celebratory needs met in one location, starting with your bachelor and bachelorette party and concluding with your honeymoon. Between the spacious venues, array of convenient accommodations, helpful vendors and service providers, and breathtaking views, Santa Barbara is a perfect destination for those pre-and post-wedding celebrations. Restaurants, hotels, and attractions offer private dining spaces for bridal shower brunches and rehearsal dinners. Local tour companies curate epic days of wine tasting and craft beer crawls for bachelorette and bachelor parties, and there's plenty of golf and wellness offerings to add to those festivities. After the ceremony and reception, newlyweds often stay to kick off their honeymoon in style and take further advantage of the romantic sights, sounds, and flavors of Santa Barbara.
Variety of Venues
In addition to choosing between town, country, and coastal settings, our venues themselves present a range of options that can accommodate a variety of guest head counts, budget ranges, and personal styles. Think of unique outdoor experiences like a small wedding at sea on a yacht or an intimate ceremony in the Santa Barbara Botanic Garden's meadow. Belmond El Encanto and San Ysidro Ranch are idyllic hideaway hotels that have long been popular for Hollywood weddings, while sprawling seaside resorts like Hilton Santa Barbara Beachfront Resort, The Ritz-Carlton Bacara, Santa Barbara and Rosewood Miramar Beach are well-suited to weddings with larger guest lists. Many couples go the wine route, whether it's an urban winery in downtown Santa Barbara, a Tuscan-style estate in wine country, or a sleek modern indoor-outdoor tasting room. Couples that opt for indoor ceremonies often gravitate towards the historic ambiance of places like the Mural Room at the Santa Barbara County Courthouse and the Presidio Chapel. There are also estates, paseos, courtyards, and gardens galore for alfresco receptions.
Convenient Location
Centrally located between Los Angeles and San Francisco, Santa Barbara is very easy for couples and their guests to get to thanks to ample air, rail, and highway access. Just 90 miles north of Los Angeles and 325 miles south of San Francisco, Santa Barbara is a gateway to California's Central Coast and the world-famous Pacific Coast Highway drive. The charming Santa Barbara Municipal Airport offers nonstop connections from seven major U.S. hubs including Los Angeles, Las Vegas, San Francisco, Oakland, Seattle, Chicago, Dallas, and Denver. Santa Barbara is also served by Amtrak's Pacific Surfliner (San Diego to San Luis Obispo) and Coast Starlight (Seattle to Los Angeles), with stations in downtown Santa Barbara, Goleta, and Lompoc. Travelers can also fly into Los Angeles International Airport or Hollywood Burbank Airport; Santa Barbara Airbus offers regular bus service and private charters to and from LAX, while Amtrak stops directly at Hollywood Burbank Airport for easy transfers to and from Santa Barbara. Learn More
Perfect Weather Year-Round
Santa Barbara's moderate, Mediterranean climate appeals to couples, no matter what season they are planning for. The region averages more than 300 days of sunshine a year. Precipitation levels are relatively low, and temperatures are generally mild all year round. Summer is peak tourism season so the competition for venues tends to be higher at that time, yet the weather is pretty darn perfect for al fresco celebrations. Fall is one of Santa Barbara's warmest seasons and is a reliably dry time of year for outdoor weddings, too. Winter and Spring are when wet weather back-up plans should be taken into consideration, and many outdoor venues can be modified with pop-up tents should the need arise. Learn More
World-Class Food & Drink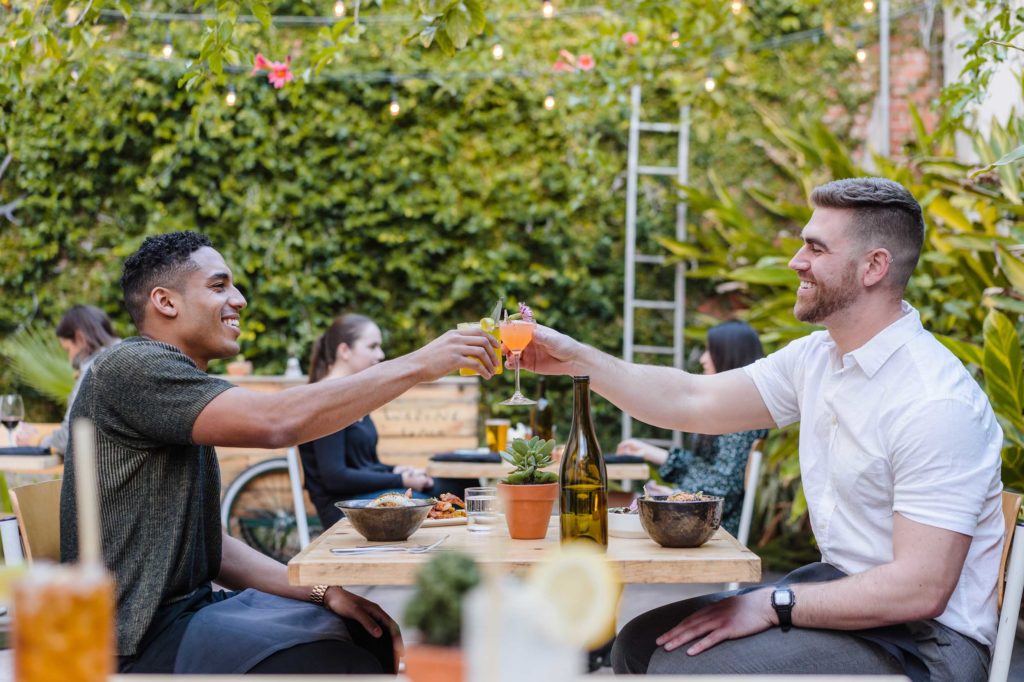 Food and libations are key ingredients for successful, memorable wedding celebrations. Fortunately for our brides and grooms, deliciousness is served at every turn here thanks to a thriving, world-renowned wine country and a hyper-local culinary scene fueled by local fisheries, farms, ranches and artisanal purveyors. The collaborative, close-knit community of chefs, growers, winemakers, brewers, distillers, craftspeople and catering professionals at our hotels, restaurants, and venues will ensure your menus stand out and satisfy a range of dietary preferences. Learn More
Plenty for You & Your Wedding Guests to Explore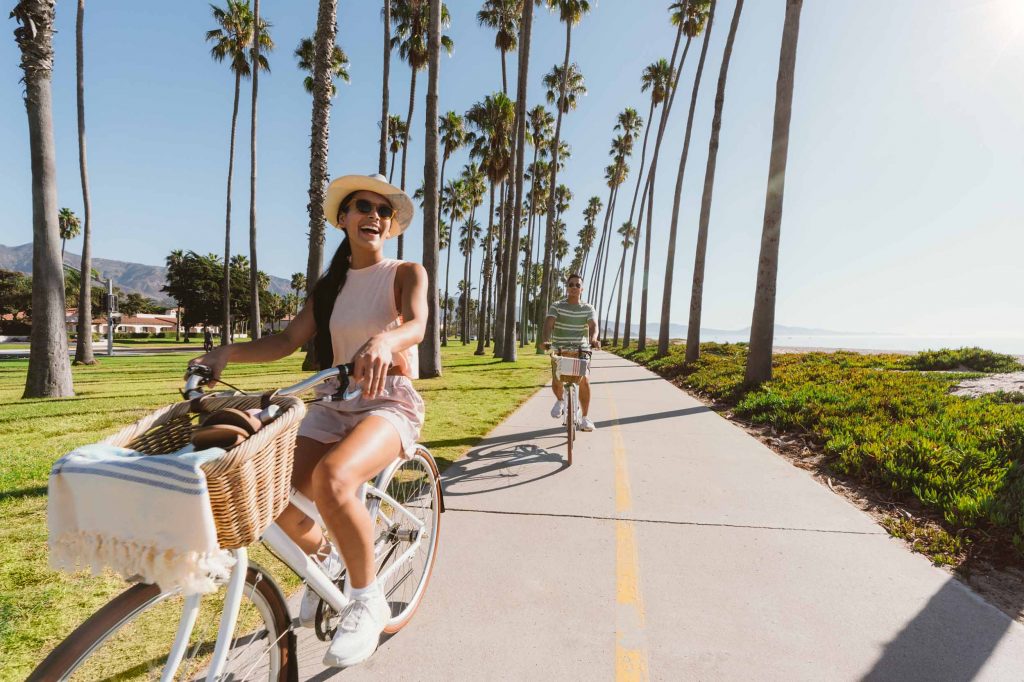 Santa Barbara's stunning landscapes, signature architecture, and cultural riches combine to create a diverse line-up of enticing experiential offerings for you and your guests. Get into outdoor adventures on land, at sea, and in the sky, from bike tours and surf lessons to kayaking paddles and parasailing tours. Sip your way through wine country or along the Urban Wine Trail. Tour estates, gardens, missions, adobes, and more historic landmarks. Treat yourselves to rejuvenating spa treatments, grounding yoga classes, and challenging golf courses. Those with kids in tow will appreciate the family fun waiting to be had at attractions like the Santa Barbara Zoo, MOXI, The Wolf Museum of Exploration + Innovation, the Santa Barbara Museum of Natural History and Sea Center. And for retail therapy and souvenir shopping, Santa Barbara specializes in independent boutiques and well-curated galleries. While that might sound like an ambitious amount of activity to pack in with a wedding to attend, it's actually easily achievable to pepper in the activities of your choice thanks to the city's compact size that makes getting around an effortless breeze. With pedestrian-friendly downtown and the waterfront district, car-free travel is a very viable and inviting option, too. Learn More